One of the most important parts of caring for a dog with kidney disease is ensuring they get the right food. Low protein dog treats are a terrific way to maintain health without missing your dog's favorite treats. Keep reading the comprehensive guide from the Canvas Personalized Blog to choose the best treats for your pup.
What Are Low Protein Treats For Dogs?
The low-protein dog treats are foods with a lower protein level than normal, at least 25 percentage of protein on a dry matter basis. So, it is vital to find the ingredient on the label that provides at least 18% of crude protein, fat, and fiber needed daily.
Although protein is an essential nutrient for dogs, dogs with kidney disease, liver disease, or problems with their urinary tract should limit protein consumption. Excessive consumption of protein might stress its vital organs and cause health problems. So, these yummy treats can help dogs keep a healthy weight and provide tasty food that won't worsen their health problems.
Remember that not all low-protein dog treats are the same, so talking to your vet about what kind and how much protein your dog needs is vital. In addition, before buying dog treats with low protein, check the labels and ingredient lists to ensure they are safe for your dog's diet.
>>> Get more valuable information about dog food for skin allergies to maintain your dog's health!
The Benefits of Low Protein Treats For Dogs With Health Issues
Dogs with health problems, including renal illness, liver disease, kidney problems, or even certain types of cancer, may benefit from low protein treats. Dogs can benefit from these treats since they contain less protein, making it difficult for their digestive systems to assimilate.
Low protein treats for dogs provide the following advantages:
Reduce stress on the kidneys and liver: Dogs with kidney or liver diseases may have trouble properly breaking down protein. Dog treats with low protein can help relieve stress on these organs and improve the dog's general health.
Help maintain a healthy weight: Low protein treats are typically lower in calories than other treats. For dogs who need to lose weight or keep it off, this can be helpful.
Reduce the risk of urinary tract issues: Dogs who overeat protein can be at a higher risk of developing urinary tract issues. Choosing the low protein dog treats can help reduce this risk and improve urinary tract health.
Fit for the digestive system: Dogs with some digestive issues may have trouble digesting foods with a lot of protein. Low-protein treats may be gentler on the stomach and aid digestion.
Hence, it is essential to remember that not all dogs need low-protein treats, and it is always best to consult a vet before making any significant changes to your dog's diet.
Best 10 Low Protein Treats You Should Buy For Your Dog
1. Hill's Prescription Diet Dog Treats, Vet Diet (Crude Protein: 12.0% Min.)
Hill's is a famous brand for making dog treats with special nutritional needs, and veterinarians commonly recommend them because of their high scientific research and development level.
These biscuit-shaped treats are fiber-rich to ease your dog's digestion and contain 12% crude protein. These low protein dog treats are perfect for various organ health and weight maintenance because they are also low in sodium and calcium. Moreover, the crunchiness of the treats can help remove plaque and tartar from your dog's teeth, which is excellent for dental health.
Nevertheless, these snacks contain corn, wheat, chicken by-products, and soybeans.
What we like:
Made with superfoods
Rich in fiber
Low in sodium and calcium
Great benefit for dental health.
2. Pet Botanics Low Protein Treats for Dogs (Crude Protein: 12.0% min)
This treat fills both the need to provide a low-protein diet for your dog daily and the need for any training reward because it is low in calories and fat, with a crude protein content of 12% and more fiber. Although hog liver is listed first, adding sweet potatoes, carrots, and salmon oil makes these treats a well-rounded option.
These best low protein dog treats are not recommended for dogs with sensitive stomachs or young puppies.
What we like:
Multiple taste options
Affordable
Very palatable
Low in calories
Perfect for training
Natural ingredients
Low protein dog treats for liver disease
3. Old Mother Hubbard Crunchy Natural Dog Treats (Crude Protein: 12.0% min)
These homemade dog foods are available in 10 flavors and sizes, so you should be able to pick one your dog enjoys. These treats are baked in the oven for a crisp and delicious taste. On average, the treats contain 12% crude protein and 7% fat, so they're not exactly low in calories.
These treats use only natural ingredients and no artificial flavors or colors. Moreover, the biscuits' bone shape will pique your dog's interest.
What we like:
Many size and taste options
Very palatable
All-natural ingredients
4. Buddy Biscuits Grain-Free Soft Healthy Dog Treats (Crude Protein: 5.0% min)
Buddy Biscuits is a great option to try a wide range of flavors, including meat, chicken, and peanut butter. Depending on the flavor, these best low-protein dog treats on the market provide anywhere from 5% to 7% crude protein.
Are you looking for the best low protein dog food for any kind of dog? These tasty treats are a good choice for you. The crude fat percentage is only 2–4%, making it a low-fat option. Moreover, these baked dog treats are grain-free, making them ideal for dogs with gluten sensitivities. The snacks are soft and tasty because they contain a high moisture content, roughly 28%.
Consider these treats carefully since they have a strong smell and a tiny amount of salt.
What we like:
Available in different flavors
Affordable
Low crude protein
Low in calories
Grain-free
Moist
5. Zuke's Superfood Blend Dog Treats (Crude Protein: 6.0% min)
While protein from meat is ideal for dogs, vegetarian dog owners will like these low-protein treats because they include berry, green, and vegetarian varieties with unique flavors.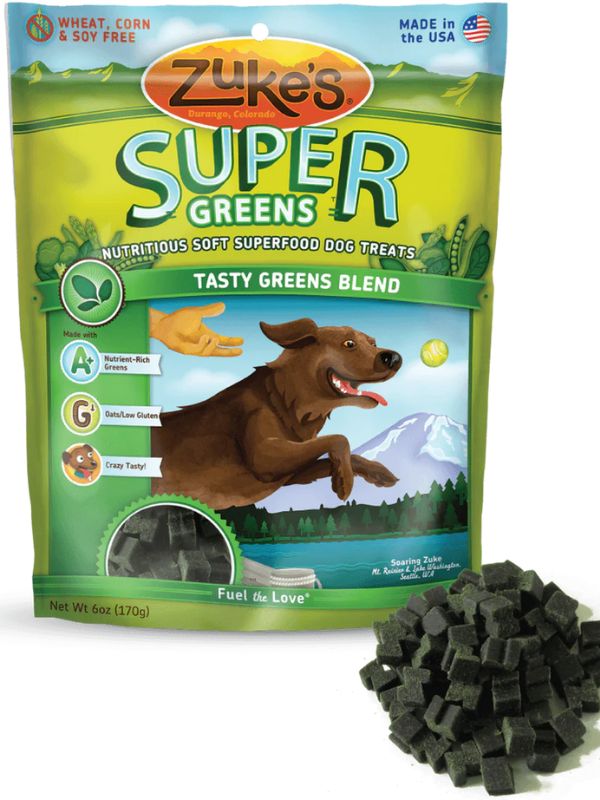 Protein content varies per flavor but is always between 6% and 7% at most. These low calorie dog treats are perfect for overweight dogs because of their reduced calorie content.
These treats have a low fiber content and are not gluten-free, but they are made from entirely healthy grains, fruits, and vegetables. These snacks feature 35% moisture, making them more appealing for your dog if they prefer a moister food or treat.
A notable aspect of these treats is that they are a bit high in sugar content.
What we like:
Available in different flavors
Low protein content
Low in calories
No gluten-containing
Moist
Dog treats for kidney health
6. Kidney Restore Low Protein Treats For Dogs (Crude Protein: 6.8% min)
In addition to the numerous benefits to renal health, these crunchy dog foods also help improve the pets' overall health. Even seniors can benefit from these treats since they promote long-term renal health and keep kidneys working normally.
These soft low-protein treats are especially good for your dog's kidneys because they contain only 6.8% crude protein and little phosphorus. Moreover, other ingredients in this product also provide several nutrients.
These kinds of treats are produced without using gluten-containing ingredients or soy. Although these treats are delicious, they are more expensive than similar ones.
What we like:
Low protein content
Reduced phosphorus
All-natural ingredients
No grains are contained.
Low protein dog treats kidney problems recipes
7. Hill's Soft Baked Naturals Grain-Free Dog Treats (Crude Protein: Less than 10% Min.)
You can't go wrong with these crunchy treats are great for dogs. These grain-free, soft-baked, natural dog treats satisfy the needs of most veterinarians. They are made primarily from sweet potatoes, though meat is also included.
These dog training treats do not contain more than 10% protein, which is the level at which most vets advise against feeding treats to dogs with liver or kidney illnesses. Moreover, all-natural components are used in the treats; the recipe has no soy, wheat, or corn.
What we like:
Healthy and delicious
Grain-free and with natural beef
Use only the highest quality, naturally preserved, and flavored ingredients
Excellent as a reward for training or as a supplement to your dog's regular dry kibble diet.
Low protein dog treats for liver disease
8. Wholesome Pride Sweet Potato Treats
Only sweet potatoes are used to make these soft low protein dog treats. These treats are chewy and dense, so they are ideal for special occasions rather than regular training.
The sweet potatoes used in these treats are a great source of fiber and vegetable-based nutrients, making them an excellent choice for your dog. Moreover, they have a lot of fiber and are grain- and gluten-free.
What we like:
All-natural and single-ingredient dog treats
All-natural, vegan, gluten-free, and grain-free
No artificial additives, fillers, or preservatives
Available in several delicious flavors.
Protein free dog treats
9. Fruitables Pumpkin and Banana Flavor (Crude Protein: 8% min)
Although many fruit treats aren't developed for low-protein diets, this combination makes them ideal. Their 8% protein content and delicious pumpkin and banana flavors make them ideal low protein treats for dogs.
These sweets' primary flavoring agent is pumpkin. Moreover, there are oats, barley, sunflower oil, bananas, and vanilla extract to round out the list of components. They have a lot of fiber and are healthy since they don't have any wheat, soy, or added chemicals.
What we like:
Satisfying flavor: Pumpkin makes everything better
Low in calories
All-natural ingredients: fruits and vegetables
Flower-shaped treats have a pleasant crunch that dogs adore.
Protein free dog treats
10. Raw Paws Natural Dried Sweet Potato Dog Treats (Crude Protein: 4.0% min)
Raw Paws is believed to only use the highest quality, natural ingredients to produce our dehydrated sweet potato low protein dog treats. These treats are made with sweet potatoes, a complex carbohydrate rich in beta-carotene, vitamins, and minerals, making them ideal for dog chews with digestive issues or dietary allergies.
Since sweet potatoes are a good source of fiber and have very little fat, these vegetarian dog treats are an excellent addition to your dog's regular diet. Moreover, the real meat flavor in these snacks is a hit with pets of all sizes and ages.
These raw treats are high in protein content and contain no corn, wheat, soy, chemicals, preservatives, antibiotics, or fillers.
What we like:
Tasty and crunchy: perfect for rewarding your dog during training.
100% all-natural, single-ingredient treat with sweet potatoes
No unnecessary chemicals, preservatives, or fillers.
Protein-free, high-fiber, and vitamins
Free of grains and gluten
Low in calories.
No protein dog treats
Which Dogs Need A Low Protein Treat For Their Special Dietary?
A low-protein diet doesn't suit most dogs since healthy adult dogs do not require to be fed low protein dog treats. So, when or which dogs need the specific treats daily?
Dogs with chronic kidney disease and liver illness
Most dogs who suffer from these diseases will benefit the most from dog treats with low protein because they might ease the pressure on the liver and kidneys.
Moreover, chronic kidney and liver problems often result from chronic conditions, so choosing a reduced-protein diet is a perfect option.
Dogs with bladder stones
Bladder stones can occur mainly due to underlying liver disease in dogs. Urate bladder stones are the most easily dissolvable of all bladder stones, and their source is typically hereditary.
Dogs need a low protein diet to help the bladder stones dissolve and prevent them from returning. The diet modification in this circumstance is temporary and must only be followed until the bladder stones have reduced.
Other health issues that may require low-protein treats for dogs include:
Glomerulonephritis
Portosystemic shunt (liver shunt)
Hepatic encephalopathy
Other urinary stone prevention
Many people believe that as their dog ages, it should switch to a low-protein diet, but this is not always the case. When there are significant health issues, low-protein dog treats are highly recommended.
But there are dogs with other conditions for which you should avoid a low-protein diet at all costs. Feeding a low-protein diet to growing puppies, pregnant dogs, or nursing dogs is not recommended because their dietary requirements are high for protein during growth and reproduction. In contrast, reducing protein intake could cause growth deficits and malnutrition.
How Many Treats Should I Give My Dog A Day?
Treats shouldn't make up more than 10% of your dog's diet, though this can vary depending on the type of treats you give them. Even healthy treats shouldn't make up more than 10% of a dog's total diet if you want it to eat its regular food and get all the nutrients it needs. Or offer the best dog a tiny amount if the treats are high in fat.
Dog treats should be given with consideration for your dog's energy level. If your dog is energetic, it should get more treats because it will burn more calories and could use the protein boost.
Depending on the quality of the proteins, the low protein treats for dogs may be higher than 13%–18%. Always remember the 10% rule, and providing nutritious treats is crucial.
A regular diet is another important consideration. Verify the nutritional information on the bag of dog food you're using to see if it's already reasonably heavy in fat and calories.
Hence, you shouldn't give your dog a low-protein treat without discussing it with your vet. The vet will advise you on the best protein amount for a regular dog.
What To Look For The Suitable Dog Treats With Low Protein
Keep in mind these essential things below before choosing the low protein treats:
High-quality protein contained
There are endless choices for protein treat brands, regardless of whether they are high or low in protein. So consider looking for treats with a protein content of 10% or less.
Dogs are most satisfied by treats whose primary constituent is an animal protein, such as chicken, turkey, beef, fish, and eggs.
All of the terms on the label should be easily pronounced. Simplifying the chemical makeup is preferable.
Choose a reputable brand that specializes in low-protein dog food and treats.
Other natural and healthy ingredients
Avoid treats whose first ingredient is meat, poultry, or fish, as these are usually high in protein. Instead, look for treats with low-protein ingredients such as vegetables, fruits, and grains.
Remember that not just the protein but also the fat and carbohydrate content, fiber content, and other substances are essential.
Ensure there are no fillers, artificial colors, or preservatives in low protein treats for dogs.
Dog treats with a few ingredients, perhaps just one, are often the healthiest option.
Remember that a dog's diet must include adequate amounts of potassium, B vitamins, omega-3 fatty acids, and antioxidants. They will reduce inflammation within the body and damage to organs, improving the quality of life.
Avoid raw foods, sugar, or any alcohol included in the low protein dog treats.
The ingredients you use should follow FDA and AAFCO guidelines.
Flavor
Most dogs typically prefer soft treats with higher moisture percentages.
Look for and try more than one dog treat with low protein to find out which treats your dog will prefer. So they are more likely to eat and enjoy delicious treats that taste good.
Veterinary recommendation
Always check with your veterinarian before giving your dog a new diet if it has a chronic medical problem.
The ideal choice is to use a prescription veterinarian diet designed for the specific health condition requiring low-protein dog treats.
>>>Further reading:
Choosing suitable low protein dog treats is vital to keep your dog healthy and happy. You will discover secure and nutritious treats for your pup with recommendations from the Canvas Personalized Blog. Check with your vet before making any changes to your dog's diet.