Keeping your dog well-groomed is essential to responsible pet ownership; having the appropriate tools can make all the difference. There are various dog grooming tools, and it can be challenging to pick the right ones. In the Canvas Personalized, we'll look at a few grooming essentials every pet parent should have.
Why Is Choosing the Proper Dog Grooming Tools Important?
Most dog parents have at least a couple of brushes and combs at home. Not only is grooming all about cleanliness, but there are many health and safety benefits. Keeping dogs clean also protects the health of people in the home, including young children. Hence, it is essential to ensure that dogs are bathed and combed with the proper dog grooming tools to remove those nasty critters that often lurk in their hair.
Numerous dog grooming tools have been released to improve coat coloration and smoothness by evenly distributing the hair's natural oils through the top coat, down through the undercoat, and into the skin to address this problem.
Whether you're a professional dog groomer or want the best for your pet, using high-quality grooming tools is crucial. It's not enough to have grooming tools suitable for different dog breeds; you must also know which extras are required. Various instruments can help, and while de-shedding tools are the most well-known, slicker brushes and pin brushes can accomplish the task. Because there are so many grooming products available, knowing your dog's breed is essential before shopping.
Best 12 Professional Groom Tool For Dogs
1. Rubber Friction Brush
Many dog owners consider the rubber friction brush an essential tool because it is so simple to use, and there is no danger of tangling the dog's hair. A soft rubber friction brush is ideal for shedding dogs of all coat types. It means this brush will not hurt your dog, yet it removes more dead hair than metal models.
What we like:
It's ideal for removing muck and tangles from dogs with short fur:
The gentle massage improves blood flow, leaving your pet's coat healthy and lustrous.
Soft rubber bristles will increase blood circulation and leave your pet's coat smooth and shiny.
The pattern on the side prevents it from sliding around. While washing your dog, you can hold it easily in one hand.
2. Bristle dog brush
Like a human's natural brush, Bristle brushes are gentle on a dog's fur. Natural dog brushes, especially for long-coated breeds, are preferable to nylon ones since they don't produce static buildup and efficiently distribute your dog's natural oils throughout the coat while smoothing it out.
Moreover, this bristle brush is ideal for use on a short or curly dog's coat because it combines natural and synthetic bristles (50/50). Brush daily to maintain a smooth and shiny coat.
What we like:
Simple to use and ideal for toy and medium-sized dogs: A beagle, dachshund, miniature pinscher, pug, and Welsh corgi
Bristle brushes are built to last with high-quality materials.
The ergonomic plastic handle provides a firm, comfortable hold while spreading your dog's natural oils all over the carpet.
These dog brushes are ergonomically designed to fit comfortably in your hand. These brushes are ideal for dogs and other small animals intimidated by larger brushes.
3. Metal comb
Dogs with a single coat may need a metal comb to smooth the kinks. So if your dog does not need to be groomed regularly, we recommend metal combs over brushes. This durable dog comb is the top choice for tools for dog grooming of responsible pet owners who want to perform their dog's grooming at home.
What we like:
Unlike de-matting dog grooming tools with sharp teeth, this comb has gentle round teeth made of solid metal and can withstand an excellent tug to remove loose hair easily, gently remove dander, and gently remove dirt lodged beneath the fur.
A rubberized finish on the handle makes it more comfortable to hold and less likely to slip. There won't drop or falling because of the non-slip covering, so you and your dog can stay safe.
The anti-scratch teeth of our dog comb are made to massage your dog's coat to increase blood flow gently and improve your dog's health.
Ideal for: German Shepherds or Golden Retrievers
4. DeShedding comb with a blade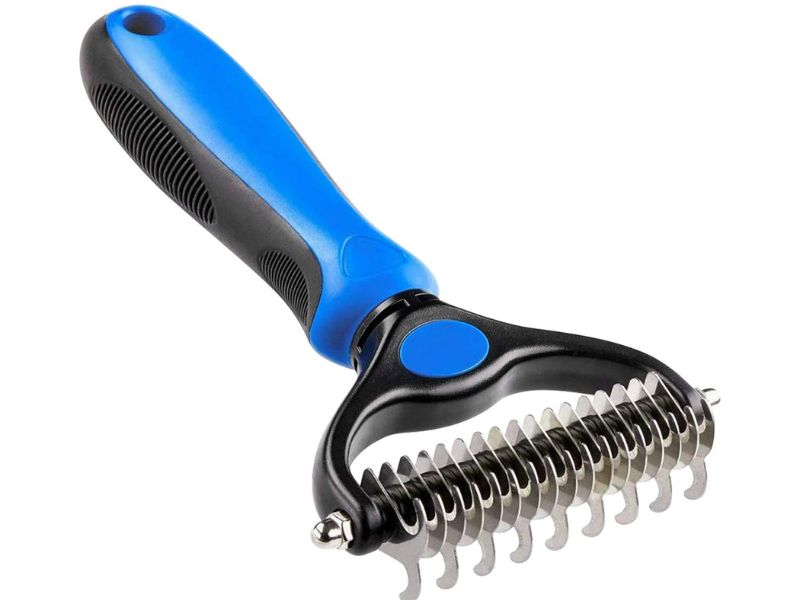 With the help of the blade and the short comb, you can easily remove your dog's shedding fur—especially during the spring, when it may "blow" his coat. Not only does it keep your pet clean and comfortable, but it also improves skin health and circulatory function. Hence, this tool is helpful for dogs of all sizes and fur kinds to get rid of stray fur, undercoat, mats, and knots.
What we like:
Easy to use and ideal for all shapes, sizes, short or long coat
Made of highly polished stainless steel, it is ideal for coarse and fine hair use. Moreover, it includes 23+12 corrosion- and rust-resistant stainless steel blades that are flat inside and rounded on the exterior so that they won't scratch your pet's skin.
With the anti-slip TPR rubber and thumb rest, the ergonomically designed handle provides a secure hold and precise maneuverability.
Double-duty design: 12 teeth to cut through rugged mats and knots, followed by 23 teeth for thinning and de-shedding to remove the undercoat, reduce shedding, and stimulate the skin for a healthy, lustrous coat. Save your time and effort!
5. Shedding blade
The shedding blade, which resembles a hacksaw blade with a looped end and a handle, is brushed over your dog's coat to remove loose hair. With this equipment, please don't apply too much pressure to this tool. This double-sided shedding can also help keep the coat healthy and shiny.
What we like:
Brushing through even the thickest dog coats or during the dog shedding season is made simple by ridged stainless steel blades.
Use the dog-shedding brush with the handles clasped together to reach your dog's smaller fur regions.
Both coarse and fine blades remove excess hair and debris, making them ideal for fostering a shiny and healthy coat.
Easy to navigate and risk-free, you can maintain a firm hold on the tool thanks to an ergonomic, soft-touch, no-slip handle.
6. Shedding rake
The shedding rake has widely spaced, downward-facing tines that rake through your dog's coat and remove the loose undercoat. Don't use too much force with this tool. It will also help you provide the best grooming experience for your dog and keep his undercoat from matting.
What we like:
Easy to use and ideal for medium- and long-haired dogs
It features precision tapered pins to avoid matting when raking the undercoat.
The shedding rake will not hurt your dog because the rounded tips of the pins won't scratch their skin.
7. Pin Brush
Pin brushes help detangle the coats of longhaired, double-coated, and wire-haired dog breeds during grooming. The pins on this brush are 1 inch long and made of stainless steel, so they'll get into your dog's coat no matter how thick it is.
What we like:
An innovative double-stack stainless steel pin design on both sides removes more loose fur while stimulating the skin. A soft nylon brush, on the other hand, distributes natural oils for a lovely sheen after brushing.
Static electricity is reduced by demagnetizing the pins. The superior pad design makes the pins' rotation with the tangles easier.
A handle made of eco-friendly birch wood and pins made of stainless steel. This brush is built to last for a long time.
8. Slicker Brush
Millions of pet owners worldwide rely on this top-rated groom tool for dogs because the thin wires of a slicker brush are closely spaced, making it ideal for removing mats and stray hair from dogs with curly coats or breeds with medium-to-long fur. You must be careful when using these brushes to avoid irritating your dog's skin.
What we like:
Efficient: reduces shedding by as much as 90 percent, lessens hair loss, smooths out knots, removes dirt and debris, and maintains a lustrous, healthy coat.
Easily maintainable: The brush bristles can be retracted with a single button press, and any accumulated fur may be wiped away.
The ergonomic comfort grip and push-button retraction on this pet brush make it a breeze to maintain your pet's clean and tidy appearance.
Promotes hair growth and hair health by stimulating hair follicles.
9. Hound Glove – Pet Hair Removal Glove
What about using the hound glove as one of the simplest dog grooming tools? The hound glove could be the solution; put on the rubber glove and pet your dog. The glove aids in brushing your dog's fur and bringing out its natural shine.
The five-finger shape makes it simple to groom your pet from head to tail, and they are effective at removing hair, whether your pet has long or short hair and whether you use them wet or dry. Apply it to your pet daily for the best results.
What we like:
Made of top-notch, non-harmful plastic, it's easy to use and care for and can be washed in the washing machine.
Use these detachable, slip-on grooming gloves to brush dirt and loose hair from your dog with long, short, or curly coats quickly, gently, and effectively.
A special coating that attracts shedding hair, making it simple to remove the hair off the glove and dispose of it.
This glove can be used in the shower to give your pet a relaxing massage while also removing excess hair. The five-finger configuration is convenient for reaching the tail or the face.
Free from any materials that could cause skin damage: One size fits all thanks to the adjustable wrist strap and the soft rubber head massages and grooms without ripping fur or scratching skin.
10. Hairy Dog & Cat Grooming Clipper
This grooming clipper is here to help your tiny dog maintain its pawsitively adorable appearance. This pet clipper has a twin ceramic cutter head and is length-adjustable, making it ideal for pets of all sizes. Also, it has a user-friendly layout makes even novice groomers feel like pros.
What we like:
This clipper instrument works well on tiny- to medium-sized pets.
It has a length-adjustable ceramic cutter head that can cut two at once.
Protection against possible dangers while charging is built in.
The straightforward layout makes it suitable even for inexperienced stylists.
The battery life of this rechargeable clipper is up to 2 hours.
11. Flying Pig Grooming High-Velocity Dog Grooming Dryer
The grooming dryer is an excellent dog grooming tool because it speeds up the process. This high-powered handheld dryer can reduce drying time by as much as 60 percent, so you'll spend less time fussing over your furry friend and less time worrying about it getting knots or wet spots—even on double-coated breeds.
What we like:
A portable dryer is a professional-grade machine with a four-horsepower motor that can cut drying times by as much as 60 percent.
It's easy to use and ideal for dogs that don't like being dried because it reduces drying time and makes it faster.
This slim, bendy grooming hose length is 10 feet, giving you plenty of room to work with.
Choose between two different temperatures and three different airspeeds with the flip of a single switch.
The sturdy steel construction means it can withstand regular use and yet be remarkably silent.
Easy to clean and maintain with its detachable filter and many nozzle attachments.
12. Hypoallergenic Shea Butter and Honey Dog Shampoo
Dog shampoo, like dog grooming tools, is essential to grooming your dog. Since dog skin is not the same as human skin, dogs' skin is less acidic; therefore, human shampoos erode a dog's skin's protective barrier, leaving your pet subject to itchy flaking. That's why choosing the proper dog shampoo is as important as tools for dog grooming.
This hypoallergenic dog shampoo with shea butter and honey uses 100% natural materials to clean thoroughly while sealing in moisture and gloss. Your pet's skin will benefit from the shea butter, and its coat will shine thanks to the honey. Moreover, it will remove dirt and oil without stripping away your pet's natural oils.
What we like:
Cruelty-free and manufactured without colorants, sulfates, or other perfumes.
Cleans and softens: This shampoo is a mild cleanser that freshens your dog's coat without drying out its skin. This sensitive dog shampoo provides itch treatment for dogs with sensitive skin.
There are no sulfates, colorants, or harsh chemical fragrances added.
Because the hypoallergenic dog shampoo is tearless and pH balanced for dogs and puppies of all ages, it's an excellent addition to your dog grooming bag.
>>>Find out more the best antifungal dog shampoos that are suitable for what you need!
5 Grooming Bag For Dogs For Each Type Of Dog's Coat
Beyond these professional tools for dog grooming, you can get simple haircuts with the correct dog grooming kit, which is especially useful for breeds with continuously growing hair, like poodles, who normally need their hair cut once a month or so.
The list of grooming bag for dogs is tested and vet-approved for portability, battery life, convenience of use, and noise level to determine which ones would be ideal for your dog's breed and your wallet.
1. Best Overall: Oneisall Cordless Dog Grooming Kit
The highlight of this grooming bag for dogs is the high-quality, cordless clippers that can trim your hair without causing undue stress. There are six clipper guards, ranging in size from 3 millimeters to 18 millimeters, and enabling cuts anywhere from a hair's width of 1/8 inch to 3/4 inch (beginners should stick to longer lengths). Moreover, it includes a cleaning brush, a comb, and scissors—everything you'll need to clip the fur on your pet.
What we like:
Cordless design and ease of use that can be used even while it's charging
A low-vibration design operates at a noise level of less than 50 dB. So most dogs are less likely to be frightened by these quiet clippers, and you'll save time and effort in the grooming process.
Durable and rechargeable battery life: 2.5 hours of charging time yields 150 minutes of use time.
It features an LCD screen to keep you apprised of its operational and charging status, giving you more excellent command over the grooming process. Also, the remaining battery life is displayed.
2. Best Basic: Sminiker Professional Pet Hair Clippers with Comb Guides
This dog grooming bag has almost everything you'll need to give your dog a spa day in the comfort of your home. The hair clippers are worth the cost of the entire set by themselves since they provide quick and precise trimming thanks to the combination of a titanium acute-angle blade and a moveable ceramic blade.
The package includes a rechargeable clipper, four comb guides, nail clippers, a file, and stainless steel scissors for precise work on your dog's sensitive regions.
What we like:
This heavy-duty groom tool for dogs will have a good, forceful cut because the horse clipper has solid and steady handling.
Combining a titanium acute-angle blade with a moveable ceramic blade, this pet clipper provides clean, precise cuts on all types of fur and skin.
Different sizes are included in the new user-friendly package. The length of your dog's coat can be fine-tuned with the help of this portable titanium blade, which can be adjusted from 2 millimeters to 0.9 millimeters.
Silent operation, slight vibration, and a precision motor. When working, noise levels below 60 decibels (DB) will not frighten your dog.
The cordless design will energize your pet's grooming tools with the included charger. With a five-hour charge, it will last for seventy minutes of use.
2. Best High-End: Shark Fin Deluxe Dog Shear Grooming Kit
This three-piece tools for dog grooming package has everything you need to cut hair quickly and precisely. The ergonomically-shaped handle of these scissors was developed to promote healthy wrist and forearm positions. Three distinct models are available, all hand-welded from high-quality Japanese steel: straight, curved, and 50 teeth. Choose from one of three available sizes and fine-tune the fit with the accompanying ring sets!
What we like:
Made entirely by hand using the highest quality steel, the convex edges on your new tools will be as sharp as possible and create clean, precise cuts.
Compared to standard shears, these are 30% lighter.
It contains a straight shear, a curved shear, and a thinning/blending shear with 50 teeth. Also, a leather case is included.
The patented finger-fitting system has three rings that can be switched out to ensure that your index, middle, and ring fingers and thumb fit snugly and comfortably.
When purchasing a set, there are three different length options: 7 inches, 8 inches, and 9 inches. A set of shears will have uniformly sized blades.
Guarantees superior balance, outstanding control, and ideal blade alignment.
3. Best for Small Dogs: Pet Union Professional Dog Grooming Kit
The ergonomic design of these cordless clippers makes it simple to get into those hard-to-reach places, even on the tiniest of puppies. Scissors and a stainless steel comb are supplied for trimming the areas they can't get to, and there are also thinning shears for dogs with thin to medium coats. Along with the clippers, the grooming bag for dogs has a nail cutter and a file.
What we like:
Include everything you need to groom your dog. High-quality dog clippers with various guards, nail trimmers, scissors, and more for a professional grooming experience
The low-vibration, the precise motor will ensure a stress-free grooming session for your little dog.
Cordless design and rechargeability make it easy to reach even the most inaccessible areas for grooming.
Designed to be gentle on your pet's skin, the titanium blades are precisely trimmed to prevent hair from being pulled out of place.
4. Best for Thick Coats: Holdog Dog Grooming Tools
Cutting through even the densest coats is no problem for this titanium-ceramic blade and its unique cutter head, which has 33 teeth instead of the standard 24 in these tools for dog grooming. There are four combs for varying the clipping distance and a three-speed rotary motor for added power. The grooming bag for dogs also includes scissors and a comb made of stainless steel.
What we like:
The detachable ceramic blade is made of high-quality titanium-ceramic, combined with the ceramic movable blade. It also has a design for long, wavy hair, so it can easily cut through double coat thickness.
Compared to the standard 24-tooth cutter head, the cutting is smoother, heat is spread out more evenly, and wear is less.
Low vibration and noise levels of around 50 dB calm the pet and make it less fearful of having its hair clipped.
Heavy-duty machinery is required for a proper forceful cut with a steady and controlled operation.
Friendly and designed for new users. Even if you've never done it, you can clip your pet's nails without worrying about hurting them.
5. Best for Poodles: Wahl Pro Series Cordless Animal Clippers
The thick, wavy coats of poodles necessitate a robust engine. This model has a heavy-duty lithium-powered motor that is 1.5 times more powerful than standard motors. The fear of cutting with a dull blade is eliminated when using a self-sharpening, snag-free blade. It has a two-hour battery life and can be charged in 15 minutes, making it ideal for on-the-go touch-ups.
The kit includes four comb guides, a dog comb, scissors, a charging wire, and a convenient carrying box, making them great for poodles, collies, and shepherds.
What we like:
At-home dog grooming can be quick and cheap. The professional tools for dog grooming are suitable for use on multiple coats, making them ideal for both large and small dog breeds.
The high-carbon sharpening blades won't dull easily, so that you can expect clean cuts and a pleasant grooming experience for your dog.
With a runtime of 2 hours, you can groom your pet several times without recharging the battery, and the cordless design doesn't skimp on power.
The lithium-ion battery can retain its charge for up to a year without developing memory difficulties, and it only needs 15 minutes to charge for instant power.
What To Look For In Choosing The Dog Grooming Tools
You can't groom your dog well and safely without the proper tools. But there are numerous dog grooming tools, making it difficult to choose. The best dog grooming tools can be determined by keeping the following in mind:
A kit or grooming bag for dogs varies in the number and types of tools included. Brushes, combs, and nail clippers are the mainstays of most dog grooming kits. Some dog grooming kits feature electric clippers, clipper comb attachments, and shears for cutting your dog's coat.
Professional dog groomers invest heavily in high-end tools for dog grooming that can withstand frequent, heavy use. Pet owners can benefit from high-end dog grooming kits, but if you're only going to be grooming your dog, spending so much on your first dog grooming kit may not be necessary.
It's essential to have the right tools for your dog's coat type when choosing groom tool for dogs. For example, a long-haired dog will need a slicker brush to prevent matting, while a short-haired dog may benefit from a rubber curry brush for shedding.
Size and Weight of the Tool
The ideal groom tool for dogs will depend on their size, as well as your strength and agility. If your dog is on the smaller side, you should choose a brush with a short handle so that you don't strain your arm throughout the grooming process.
The reliable dog grooming tools will be sturdy and well-made to last long. Check that the product you're interested in has sturdy, well-built handles and rust-proof blades.
Incorrect use of nail clippers and other grooming products can be rather harmful. To avoid harming yourself and your dog by accident, you should look for goods that have safety features like guards or sensors.
Consider choosing the best tools for dog grooming to make your dog feel and look its best by following these suggestions above.
>>>Further reading:
Maintaining a clean and well-groomed dog is essential to its health and happiness, and this task can be simplified with the help of the correct equipment. You can ensure your dog always looks and feels excellent by getting professional dog grooming tools and learning how to use them correctly. Whether you've owned a dog before or this is your first time, you'll find all the information you need to start grooming your dog at home in this comprehensive guide from Canvas Personalized.