Choosing food dog names is a fun and exciting part of adopting one. Moreover, a dog's name can convey something about its character or size or be a playful expression of the owner's personality. Then, the Canvas Personalized has listed many culinary-themed names for your dog. Let's go over them now!
Top 65 Popular Food Dog Names To Choose
Remember that the name you choose will be with your dog for life, so make sure it's a name you won't regret. Consider your dog's breed or personality traits when selecting a food name. For example, if you have a French Bulldog, you may want to consider a name like Croissant or Baguette. If your dog is energetic and playful, you may want to choose a name like Mochi or Peanut.
Alfalfa
Avocado
Babaganoush
Bacon
Bagel
Bao
Barley
Basil
Bean
Biscuit
Bison
Brisket
Bruschetta
Butter
Caramel
Chai
Cheddar
Cheese
Chip
Chocolate
Churro
Cinnamon
Cocoa
Coconut
Cookie
Cupcake
Curry
Doughnut
Fig
Gazpacho
Ginger
Goose
Gourmet
Jellybean
Ketchup
Lasagna
Latte
Lemon
Macaroni
Marshmallow
Miso
Mochi
Muffin
Mustard
Nutmeg
Olive
Oreo
Pancake
Peaches
Peanut
Pepper
Pickle
Pickles
Pizza
Pumpkin
Pupperoni
Ramen
Sage
Sausage
Sushi
Taco
Tofu
Waffles
Wonton
Ziti
>>>Check out more than 400 interesting country-inspired dog names to choose from!
65 Food-Inspired Dog Names For Female Pups
Your new female pup deserves a name that's as unique and special as she is. Check out these food-inspired dog names for some inspiration that will make your pup's name as delicious as her personality.
Almond
Apple
Artichoke
Arugula
Barley
Basil
Berry
Biscuit
Blanche
BonBon
Brie
Bubblegum
Bun Bun
Butterscotch
Caramel
Carmella
Charlotte
Cherry
Chick
Chili
Chocolate
Cinnamon
Clementine
Clove
Cocoa
Cupcake
Curry
Ducky
Eclair
Flapjack
Fluffy
Fudge
Ginger
Honey
Jasmine
Kiwi
Latte
Lemon
Licorice
Macaron
Magdalena
Maple
Margarita
Muffin
Nacho
Olive
Panini
Paprika
Peach
Pepper
Pumpkin
Rosemary
Saffron
Sherry
Shirley
Skittles
Snickers
Sorbet
Star Anise
Sugar
Sushi
Taco
Trifle
Vanilla
Wasabi
75 Name Related To Food Theme For Male Dogs
If you're a foodie and a dog lover, why not combine your passions with these food-inspired dog names for your new male pup? From sweet to savory, there's a name here for every taste.
Alfredo
Angus
Asiago
Bacon
Bananas
Banh Mi
Bartlett
Bean
Beer
Biscuit
Bran
Brisket
Burger
Butternut
Cabbage
Cannoli
Cappuccino
Cashew
Cheddar
Cheese
Chili
Chips
Chive
Christo
Chuck
Cobbler
Coffee
Colby
Donuts
Espresso
Frito
Fudge
Gumbo
Ham
Honey Cake
Hops
Hotdog
Kale
Kimchi
Kobe
Marmalade
Meatball
Monte
Mung
Mustard
Nacho
Noodle
Nori
Nugget
Nutmeg
Oreo
Pancake
Peanut
Pepperoni
Porter
Pretzel
Pringle
Reuben
Ribs
Sage
Sausage
Sprouts
Steak
Stilton
Taco
Tater
Tofu
Tuna
Walnut
Ziti
Sweet Food Dog Names Ideas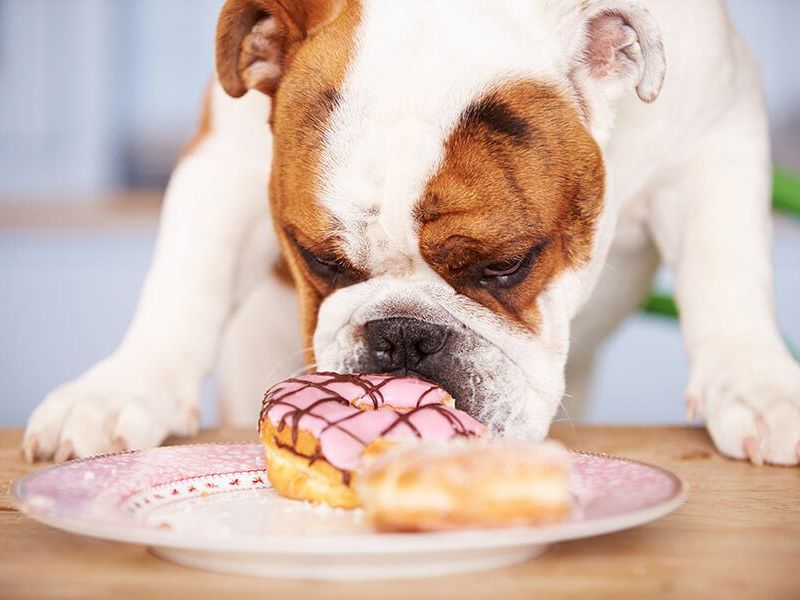 Whether your dog is as sweet as candy or as comforting as a warm cookie, these food-inspired names are a perfect match.
Biscuit
Brownie
Buttercup
Candy
Caramel
Cupcake
Cupcake
Fruitcake
Gingerbread
Gummy
Honey
Jellybean
Macaron
Marshmallow
Muffin
Pudding
S'more
Sugar
Sweetie
15 Suggestions For Spice Names For Dogs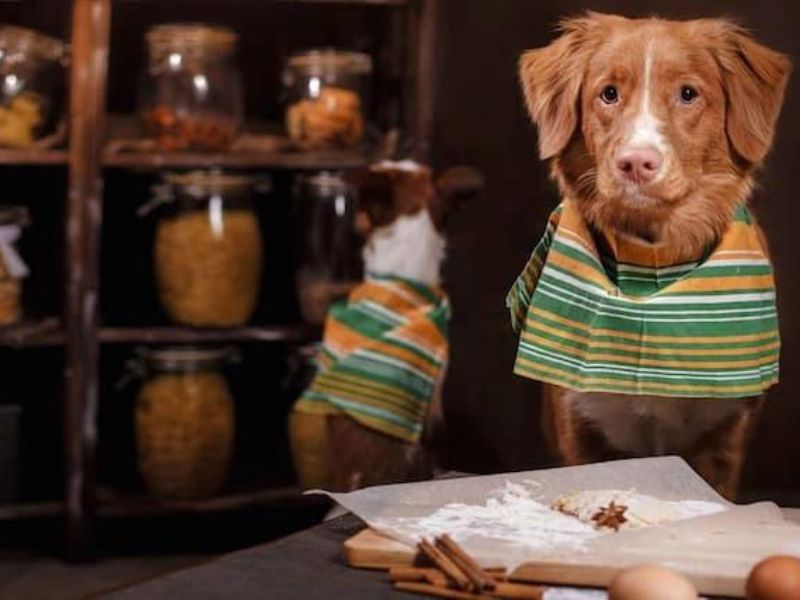 From sweet and aromatic to bold and spicy, spice names can provide the perfect inspiration for naming your dog.
Anise
Basil
Cardamom
Cayenne
Cinnamon
Clove
Ginger
Juniper
Nutmeg
Oregano
Paprika
Rosemary
Saffron
Thyme
Turmeric
Ideas For Dessert Dog Names
Naming your dog after a dessert can be a fun and adorable way to give them a unique name that suits their personality. There are plenty of dessert-inspired dog names to choose from, whether you want to go with classic options like "Cupcake" or "Brownie" or get more creative with names like "Meringue" or "Tiramisu."
Alaska
Almond Joy
Blondie
Brownie
Cannoli
Caramel
Chip
Chocolate
Cookie
Creampuff
Cupcake
Custard
Donut
Drizzle
Dumpling
Frosting
Fudge
Gelato
Ice Cream
Macaron
Madeleine
Milkshake
Oreo
Pumpkin
Puppaccino
Reese
S'mores
Sprinkles
Strawberry
Sundae
Sweetie Pie
Swirl
Swirly
Truffles
Top 40+ Drink Names For Dogs
A drink Name for your dog can also bring a playful and fun element to your dog's personality, making them stand out and adding to its charm. Choosing a drink name that holds a special meaning to you, such as the name of your favorite sweet treat or a dessert you enjoyed on a special occasion, can give your dog's name a personalized touch.
Absinthe
Americano
Anise
Bailey
Barista
Barley
Brandy
Bud
Cafe
Cappuccino
Cherry
Cortado
Cosmo
Cubano
Cuervo
Daiquiri
Espresso
Evian
Fanta
Geisha
Gimlet
Guinness
Hops
Jameson
Java
Kahlua
Kona
Latte
Lungo
Macchiato
Manhattan
Margarita
Martini
Merlot
Mocha
Mojito
Pinot
Redeye
Riesling
Romano
Sake
Scotch
Shasta
Sherry
Spritz
Stoli
Tom Collins
Vesper
Whiskey
Top 30+ Funny Food Dog Names for White Pups
Looking for a fun and unique name for your white furry friend? Why not try a food-inspired name that's sure to bring a smile to everyone's face! Here are some funny food dog names to consider for your white pup:
Alfredo
Almond
Asiago
Barley
Biscuit
Brie
Butter
Buttermilk
Cauliflower
Cheese
Chowder
Coconut
Cream
Egg
Feta
Flour
Fluff
Hazelnut
Jasmine
Marshmallow
Mozzarella
Oatmeal
Pasta
Pearl
Pepper
Potato
Quinoa
Rice
Ricotta
Salt
Snowball
Sorbet
Sugar
Tapioca
Tofu
Tortilla
Vanilla
Yogurt
Cute Food Names for Black Dogs
If you have a black dog and you're looking for a unique and cute name, why not draw inspiration from the world of food? From sweet treats to savory dishes, plenty of food-related names can perfectly suit your furry friend's dark coat. Here are some ideas to get you started!
Beans
Blackberry
Caramel
Caviar
Chocolate
Coal
Coal Miners
Cocoa
Coffee
Ebony
Espresso
Fennel
Figgy
Hazelnut
Huckleberry
Inky
Jet
Licorice
Mocha
Mushroom
Onyx
Peanut Butter
Smokey
Soot
Squidward
Starbuck
Tar
Having fun and getting creative while choosing food dog names is simple because there are many options. The range is broad, from cute and unique to powerful and sophisticated. If you're looking for a name for your pup, don't be afraid to have a little fun with our list from the Canvas Personalized.