When it comes to giving gifts for dachshund lovers, finding something that shows how much they love dachshunds can be fun. Canvas Personalized has compiled a list of 30 unique and funny gift ideas to make their tails wag.
Continue reading to find inspiration for unique dachshund themed gifts that delight every dachshund fan, including useful and entertaining dachshund-themed items. And start looking into gifts, and get ready to see the pure joy on their faces.
Fun and Practical Gifts For Dachshund Lovers
1. Dachshund Dog Paper Towel Holder
This cute and useful paper towel holder in the shape of a dachshund will add some dachshund charm to your kitchen. Seven different designs are available for this item, decorated in a rustic or country design! This paper towel dispenser may even accommodate a jumbo-sized roll.
What we love:
Made of long-lasting materials and can hold standard-sized paper towel rolls firmly.
Easy to Use: Just put the roll of paper towels on the stand and pull the sheets out of the dog's mouth for quick and easy access.
A non-slip base helps it stay on your counter, so it won't tip over or move by chance.
2. Magnetic Dachshund Notepads
These Dachshund magnetic notepads are not only useful, but they also add a bit of charm to your everyday life. The two cute notepads are handy for making lists and keeping track of important dates. Each notepad has fifty sheets, a chipboard backer, and a magnetic strip.
What we love:
Magnetic backing: easy to stick them to any magnetic surface
Small: the size is small, making quick notes, to-do lists, food lists, or messages
Easy to tear off, so you can take your notes wherever you go.
3. Dachshund Marble Coaster
Each coaster has a beautiful dachshund silhouette, giving your table a touch of grace and charm. As gifts for dachshund owners, these coasters will have color variances, veining, pits, and naturally tumbled edges. You can engrave the name, wedding date, or any special custom on the gifts for dachshund lovers.
What we love:
Crafted from high-quality natural marble
Unique design: Each coaster has a beautiful dachshund silhouette, giving your table a touch of grace and charm.
A cork bottom that won't slip. Your furniture will be safe from drink rings and drips.
Easy to clean
It can be used for both hot and cold drinks.
4. Funny Dachshund Slippers for Women
Put on a pair of our funny Dachshund slippers and let your feet enjoy the warmth and cuteness of these wonderful friends. The fluffy slippers are made entirely of polyester, and their plush fleece Sherpa inner keeps feet toasty and comfortable even in the coldest of winters. A slipper sock style, color, and size are available for everyone.
What we love:
Made of high-quality materials, they are soft, fluffy, easy to wear, and keep your feet warm.
Non-slip soles
One size fits most.
5. Dachshund Planter Pots
The lovable Dachshund breed inspires these unique planters and brings a touch of whimsy to your indoor or outdoor space. Your recipients will be blown away when they open our beautiful pink present box and see what you've gotten them. These gifts for a dachshund lover are perfect for displaying on any window sill or shelf without taking up too much space.
What we love:
Unique Dachshund design
High-quality, strong materials won't break down in bad weather, so they are suitable for gardens, patios, and porches.
Drainage holes to make sure the dirt doesn't stay soggy. This keeps the plants healthy and keeps them from getting root rot.
6. Funny Guy Mugs Gnome and a Dachshund Statue
This adorable gnome statue resembles a mix between a standard garden gnome and a dachshund. You can add fun and charm to your outdoor space with the funny Dachshund statue. It's a fun way to show how much you like dachshunds and yard gnomes and add a bit of fun to your surroundings.
What we love:
Hand-painted details: Every detail, from the gnome's pointy hat to the dachshund's expressive eyes, is drawn with care and accuracy.
Made of high-quality resin that is built to last. It can withstand rain, snow, and UV rays, so it will keep its bright colors even if wet or snowed.
7. Wiener Dog Fairy Lights
Put the finishing touch on a dog lover's Christmas tree or bedroom with these adorable wiener dog fairy lights. The 3D LED canine lights will light up your space with a beautiful glow. Let the cute Dachshund design make you smile and make any room feel like a magical place.
What we love:
Versatile decor for bedrooms, nurseries, living rooms, or even outside.
LED lights: These energy-efficient lights give off a soft, charming glow.
Long-lasting and safe.
Battery-operated: You can put them anywhere you want without finding an electrical outlet.
Easy to use: turn them on and let them light up the space.
Top Unique Gifts For A Dachshund Lover
8. Dachshund Necklace
The necklace features a beautifully crafted dachshund pendant, capturing the iconic features of this beloved breed. The chain, one of the best dachshund gift ideas, is a beautiful piece of jewelry that shows how much you like these cute dogs. Moreover, this everyday accessory is elevated to perfection by adding a chain, making it unique and subtle.
What we love:
Made of solid silver, gold, or stainless steel, it will last for a long time.
Versatile style: It can be worn in many different outfits and situations.
There are many options for customization: you can choose to stamp the pendant with initials, names, or important dates, making it a unique piece with special meaning.
9. Dachshund Bracelet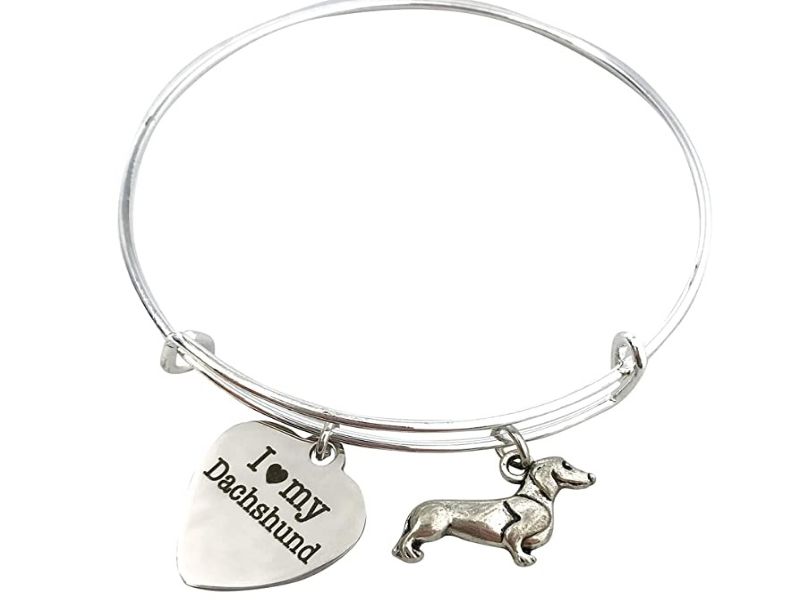 This adorable dachshund bracelet would make the perfect gifts for dachshund lovers. Each charm shows the beloved dachshund in all its cuteness, with its long body, soft ears, and big eyes. It is both a stylish ornament and a way to show how much you love these cute dogs.
It's a stylish accessory with emotional value because it shows how much they love the breed. This bracelet will surely bring charm and happiness to any dog lover's collection.
What we love:
Made with high-quality sterling silver, gold, or stainless steel, it will last and keep its shine long.
Fits different wrist sizes: The band can be adjusted to fit wrists of various sizes, making it comfortable and safe to wear.
Versatile style.
10. Adjustable Dachshund Ring
If you're as obsessed with doxies as we are, you'll want to wear these stunning rings as dachshund gift ideas daily. They can be tightened to accommodate even the bulkiest sausage fingers. Three different metal finishes are available: silver, black, and gold.
So, don't miss out on this trendy and useful piece of Dachshund charm you can take wherever you go.
What we love:
The craftsmanship is of high quality and is made to last and hold up to daily use.
Perfect fit
Flexible accessory: perfect with any outfit, whether you're dressing up for a special event.
11. Dachshund-Shaped Corkscrew for Wine Bottles
This Dachshund dog-shaped wine bottle stopper will make the great sausage dog themed gifts. It's designed to fit the mouths of standard-sized (1.8–2.0 cm) red wine bottles and is made of zinc alloy and silicone that meets food safety standards. It is also a stylish ornament that shows how much you love these cute dogs.
What we love:
Made of long-lasting materials like stainless steel and high-quality plastic so that it will last and work well for a long time.
Easy to use with a curved handle that makes it easy to hold and pull the cork out of the bottle.
Small and portable, so you can easily put it in your bag or lunch basket.
Adjustable to fit various wrist sizes.
12. Dachshund Wine Glass Joke
The Dachshund Wine Glass Joke is a cute and funny novelty item that celebrates the love of dachshunds and wine. This funny item is sure to bring laughter and joy to the life of any wine-loving dachshund lover.
What we love:
High-quality craftsmanship with great care and attention to detail, so they look high-quality and real.
13. Handmade Dachshund Cushion Cover
These cute cushion covers are beautiful gifts for a dachshund lover to show off the charm and personality of dachshunds. Whether you keep it for yourself or give it to a fellow dachshund lover, this handmade cushion cover will surely warm anyone wanting to show affection for the breed.
What we love:
Made with care and attention to detail, ensuring high workmanship and uniqueness.
The artwork captures the spirit of dachshunds and adds a bit of playfulness and whimsy to any space.
Made of high-quality materials, such as soft, long-lasting cloth, to be comfortable and last long.
Versatile decor and settings on sofas, armchairs, or beds.
14. Dachshund Oven Mitts and Pot Holders Set
With these dachshund gift ideas, you can add charm to your kitchen. These cooking essentials include two oven mitts and two pot holders that are made to be both cute and useful. The oven mitts are constructed to protect your hands from heat while showing off your love for this beloved breed. Whether you own a dachshund or just like the breed, these sets will make you smile whenever you enter the kitchen.
What we love:
Heat resistance: They are made of materials that can withstand heat and keep your hands safe from hot pots, pans, and baking trays.
A secure grip helps you hold on to hot things without slipping.
Comfortable fit, making it easy to move around and be flexible while cooking.
Durable and easy to clean
Versatile Use: They can be trivets, plates, or decorations in your kitchen or dining room.
15. A Coloring Book of Dachshunds
"A Coloring Book of Dachshunds" lets you dive into the world of dachshunds. Twenty Dachshunds fill an entire page, and the Mandala background is waiting to be filled in with color.
Whether you want to be artistic or give a gift to someone who loves dachshunds, this coloring book will give you hours of fun and make you love these dogs even more.
What we love:
Dachshund-themed art: Many beautiful drawings of dachshunds show their charm, personality, and unique features.
Relaxing and relieving stress, helping people rest and relieve stress
Suitable for all skill levels
High-quality paper.
16. Stone Dachshund Ring Dish
White stoneware forms the body of this cute Dachshund ring holder and is ready to protect your rings. Its cute design, many uses, and high-quality craftsmanship make it a must-have for anyone who loves dachshunds and a great gift for special events. Hence, this dog's small stature makes it a beautiful accent for any dressing table or nightstand.
What we love:
Dog-inspired design: The stoneware material catches the dachshund's unique features beautifully, from its long body to its perky ears and wagging tail, giving it a cute and whimsical look.
Versatile and useful: this ring dish can be used as a decoration or for carrying rings, earrings, small trinkets, and other jewelry.
Made of strong stoneware, it will last a long time and hold up to the wear and tear of daily use.
17. Ring-Bearing Dachshund
This unique and charming addition to your special day brings a touch of whimsy and joy to any event or celebration. It's one of the simplest dachshund gift ideas for grandparents on special occasions or as party favors because of its cute look and customizable accessories.
Let this cute dachshund be a part of your day to make you and your loved ones remember it forever.
What we love:
Cute and loveable
Customizable accessories: This can be changed to match the colors and style to give it a personal touch.
Unforgettable moments: The dachshund adds charm and personality to your wedding album, making memories you'll love for years. It also creates a memorable and heartwarming moment for your loved ones.
18. Dog Puzzle: Original Dachshund Crystal
With these funny dog puzzles, you can dive into the world of Dachshunds because of their beautiful design, teaching value, and decorative value. It's a fantastic method to exercise your brain and satisfy your canine obsession.
With this beautiful crystal puzzle, you can enjoy putting together a work of art and appreciate the beauty of the Dachshund breed.
What we love:
The beauty of crystal clear
With complicated designs and pieces that fit together, this puzzle is a fun task that will keep your mind busy.
Fun and exciting: This makes it fun and educational for kids and adults.
Display-worthy: It can become a beautiful piece of art you can show off at home or work.
19. Porcelain Sausage Dog Desk Organizer
Put your penchant for sausage dogs on display in the workplace with this handy desk caddy. It's not only a good way to store things, but it's also a cute piece of decor that makes your desk more interesting.
The black doxie is lengthy (like a real doxie) and may accommodate up to twenty characters. With this cute and helpful desk organizer, you can keep your tools close at hand and keep your desk clear of clutter.
What we love:
Charming design.
Plenty of storage: You can store and organize your pens, pencils, paper clips, and other small office supplies neatly.
Strong and hardy
Versatile use: it can also be used as an art piece to make the workspace more interesting.
Easy to clean: The smooth porcelain surface is easy to clean and maintain.
Personalized Dachshund Gift Ideas
20. Mini Dachshund Crossbody Handbag
This cute Mini Dachshund Crossbody Handbag adds a touch of Dachshund-style charm to your clothes. You may wear it crossbody in multiple ways, such as a crossbody, shoulder purse, or clutch, depending on the length of the straps.
This mini bag has enough space for a current smartphone, keys, wallet, headphones, passport, tickets, cash, credit cards, lipstick, and more.
What we love:
Adorable Dachshund design
Compact and versatile: The adjustable strap allows for comfortable and convenient carrying.
High-quality materials.
Plenty of storage space.
Unique and stylish.
21. Dachshund wall art print
The Dachshund wall arts are the perfect gifts for dachshund lovers to add a beautiful touch to their home's style. If you're looking for gifts for dachshund lovers or a way to decorate the home, look no further than this stunning and hilarious print. Celebrate your love for this well-known breed and make your living space friendly and welcoming.
What we love:
High-quality printing ensures the colors are bright and the details are precise.
Multiple size options
A versatile piece of decor that you can hang in your living room, bedroom, or office
Premium materials, such as archival-quality paper or canvas, ensure that they will last for a long time.
Easy to hang.
22. Metal Black Dachshund Soap
If you know someone who adores dachshunds or appreciates a good joke in the restroom, these items are the perfect dachshund gift ideas! The sleek and useful Metal Black Dachshund Soap will make your bathroom look better. Moreover, you can enjoy the ease of a dedicated soap holder while giving your space a touch of elegance.
What we love:
A sleek and stylish design: It is a valuable soap holder and a decorative piece that adds a touch of class to your bathroom decor.
The craftsmanship of high-quality metal is built to last.
It keeps your soap from getting wet and makes it last longer.
Easy to clean.
23. Dachshund Gift Ideas Doormat
Place the cute Dachshund doormat at the front door to greet guests with a moving tail and a smile. The mat's biodegradable PVC vinyl backing ensures it won't slip, and its natural coconut fibers make it long-lasting. They look great, are far more durable than laser-engraved or spray-painted mats, and the ink is locked into the mat fibers with UV curing.
This stylish and helpful doormat makes a warm and welcoming entrance to any house.
What we love:
Made of high-quality materials to resist daily foot traffic so that it will last for a long time.
Non-slip backing
Effective dirt and debris trapping: It helps to pick up dirt, mud, and other debris from shoes, keeping the floors clean and neat.
Easy to clean.
Comes in different sizes.
24. Dachshund Butt Engraved Cutting Board
This bamboo cutting board is shaped like a paddle thanks to laser etching, which will add a touch of dog charm to the kitchen. This unique cutting board is designed to meet all your cooking needs, whether chopping veggies, slicing fruits, or putting out appetizers. These funny gifts for dachshund lovers will bring a smile to their faces while giving you a reliable and useful tool for cooking.
What we love:
Durable and of good quality.
Size versatility
Knife-friendly surface
Easy to clean.
25. Daschund Dog Wood Catch-All Tray
The Dachshund wood tray will add a touch of dog charm and help you keep things in order as one of the best practical gifts for a dachshund lover. This stylish and versatile accessory adds personality to your home and keeps your essentials nicely organized and easy to get to.
Moreover, you can put small plants or candles on it or use them as decorative pieces on your coffee table or doorway console. Place an order for a custom tray with your favorite image or words.
What we love:
A carefully carved dog gives your home decor a touch of fun and personality.
Made of high-quality wood with great care and attention to detail, it will last a long time.
Adaptable and roomy
Easy to use and helpful.
Easy to clean.
26. Dachshund Tumbler Personalized
This unique tumbler is one of the greatest dachshund gift ideas because it can be personalized, is made of durable materials, and is easy to use. The BPA-free lid, stainless steel straw, and cleaning brush that come with this tumbler are all high-quality accessories that will endure for a long time. Moreover, you can add your name or a special message to this Dachshund tumbler, making it a unique and memorable accessory.
What we love:
Made of durable, high-quality stainless steel to keep the drinks at the right temperature.
The double-wall insulation keeps your drinks hot or cold for hours.
Spill-proof lid.
Portable and versatile
Easy to clean.
27. Custom Mug Gifts For Dachshund Lovers
You can't go wrong with a personalized dachshund mug as one of the perfect gifts for dachshund lovers because it can be personalized with the name or a special message and has a cute dachshund design on it. Start your day with a personalized touch and a drink from a mug that shows how much you love these cute dogs.
What we love:
High-quality ceramic, so it can be used every day and still keep its bright colors.
Large capacity: This mug can hold hot or cold drinks, like coffee or tea, in the afternoon.
Designed to fit the shape of your hand, making it easy to hold and enjoy your drink.
Dishwasher and microwave safe.
28. Dachshund Throw Blanket
Giving these bespoke throw blankets as dachshund gift ideas lets your loved one relax on the couch or bed and enjoy their favorite shows, movies, games, books, coffee, and conversations with friends and family. This throw blanket has a toasty plush polyester sherpa lining and a soft patterned flannel fleece on one side, making it perfect for use throughout the year. Curl up, relax, and enjoy this blanket's warmth and charm in your living space.
What we love:
Perfect size for cuddling up on the couch and adding another layer of coziness to your living space.
Made of high-quality fabric, it can be used daily while keeping its softness.
Multiple uses: while reading a book, watching your favorite movie, or taking an afternoon nap,
Washable in a washing machine.
29. Customizable Dachshund Gift Ideas Keychain
With this cute Dachshund keychain, you can always take a piece of your love for furry friends with you. Each of these adorable keychains includes a tassel, a glittering doxie in the color of your choice, and a paw print to top it all off. Add a personal touch and love its cute design to show off your doxie and your affection for it.
What we love:
Personalized touch with a name, initials, or a special message to make it truly unique and memorable.
Made of solid and high-quality materials like stainless steel or zinc metal so that it can be used every day and last for years.
Versatile use: Attach it to keys, a backpack, or a purse, or use it as a zipper pull on the bag.
30. Dachshund Forever Calendar
You can celebrate your love of dachshunds every day of the year with this cute calendar. From January to December, you can keep track of time with the help of this book's charming artwork and easy-to-use layout. With the Dachshund Forever Calendar, you can make each day slightly better.
What we love:
Dachshund-themed design: Each month of this cute calendar has a unique and charming drawing of a dachshund.
High-quality printing on premium paper with bright colors.
Include ample space for writing dates, meetings, and reminders.
Versatile decor: You can hang the calendar on your wall, pin it to your bulletin board, or put it on your desk.
>> Further reading:
With our long list of gift ideas from Canvas Personalized, finding the perfect gifts for dachshund lovers that show how much they love dachshunds shouldn't be hard. Whether it's a dachshund-themed ornament, something useful for their furry friend, a custom or personalized gift, or something they made themselves, your gift will surely make any dachshund lover happy. Take advantage of the chance to make their special days even more memorable.