Golden Retrievers are among the most popular dogs in the world because they are friendly, loyal, and smart. You've come to the right place if you're looking for the perfect gifts for golden retriever lovers. In this piece from Canvas Personalized, we'll give you plenty of great gift ideas that any Golden lover will surely enjoy.
Best Gifts For Golden Retriever Lovers To Cherish For A Life Time
1. Golden Retriever Themed Gifts Art Print "Bad Romance"
Angela Bond's "Bad Romance" Golden Retriever art print is a beautiful picture of the relationship between a dog and its owner. The picture shows a Golden Retriever looking at its owner with love and loyalty. Warm colors and soft brushstrokes add to the artwork's general emotional effect.
This art print would make a perfect addition to any dog lover's collection or a thoughtful gift for someone who adores Golden Retrievers.
2. "Life is Golden" Sweatshirt
One gift idea for those who love golden retrievers is wearing a long-sleeved t-shirt that says, "Life is Golden."
This cozy and stylish sweatshirt features a simple yet eye-catching design that beautifully showcases the lovable and friendly nature of Golden Retrievers. Whether they are out for a walk in the park or just lounging at home, the "Life is Golden" sweatshirt is one of the must-have golden retriever gifts.
What we love:
Made with high-quality materials: 80% cotton. It is soft, comfortable, and perfect for any casual occasion.
This cotton-blend jacket is unisex and comes in five colors.
3. Golden Retriever Decal
These funny decals are charming golden retriever themed gifts to show their love for any golden lover. These decals feature a realistic depiction of a golden retriever with a playful expression, capturing the breed's sweet and friendly nature. These items are gifts for someone who loves golden retrievers and showcase their affection for their dogs.
What we love:
Made of high-quality vinyl, it is durable and long-lasting for a lifetime.
Easily applied to any surface, from car windows to laptops and notebooks.
Its size is perfect for adding a touch of personality to any item.
4. Golden Retriever Mom Wine Glass
The Golden Retriever wine glass is one of the unique gifts for golden retriever owners who love drinking wine. This cute glass is beautifully designed with a sleek and elegant stem and features a charming Golden puppy silhouette etched on the glass.
This glass's sturdy and durable construction makes it ideal for everyday use, while its unique design adds sophistication to any occasion. Golden Retriever obsessed will surely cherish this glass, which adds a special touch to any wine-drinking experience.
5. The Golden Opoly Board Game
Golden Opoly is a unique board game designed as gifts for Golden Retriever lovers to spend time with their family and friends while celebrating their birthday. This board game is packed with fun facts about Golden Retrievers, and players move around the board by buying, selling, and trading different dog-related items.
Golden Opoly is one of the must-have golden retriever gift ideas whether you are looking for yourself or a beloved one, this Golden Opoly board will provide hours of entertainment for the receiver.
6. Golden Retriever Themed Gifts Of Ornament
Golden Retriever ornaments are a charming addition to any holiday decoration collection. They come in different materials, such as glass, ceramic, and resin, and showcase the breed's iconic features, such as their floppy ears and friendly faces.
This ornament made of blown glass is both classic and cute. It would look great on those green branches. These ornaments make them great golden retriever gift ideas and add a festive touch to any holiday celebration.
What we love:
Handcrafted in age-old tradition with new techniques: Durable and stunning
Molten glass is mouth-blown into finely carved molds.
7. Golden Retriever Insulated Tumbler
This insulated tumbler is a must-have for any Golden Retriever lover who is always on the go. This item is perfect for keeping beverages hot or cold for hours, making it ideal for long road trips, hikes, or even just a day at the office.
Plus, the tumbler's charming design featuring a Golden Retriever adds a touch of personality to your drinkware collection. Overall, this tumbler is an excellent choice for anyone who wants to enjoy their favorite drinks in style while showing their love for this beloved breed.
What we love:
Made of solid construction stainless steel
Double-wall insulation ensures your drink stays at the perfect temperature.
A durable, smooth coat of paint that won't fade or crack through extended
The spill-proof lid keeps it safe from spills and leaks.
8. Keepsake Gift Box
The keepsake gift box with the carving of a woman embracing a golden dog is a heartwarming, one of the most sentimental golden retriever gifts for her. The inside of this hand-painted plastic box with a bas-relief lid says, "Truly a friend," capturing the essence of the special bond between humans and their dogs.
This gift box can be used to store treasured items or as a decorative piece to add a touch of warmth to any room. It is a thoughtful and charming present that any golden lover will cherish for years.
9. Golden Retriever Necklace
You should put this unique dog pendant on your list because it is a stunning piece of jewelry that Golden Retriever women would adore. It features a delightful pendant of a dog with intricate designs highlighting its fur and facial features.
You can get it in silver, gold, or rose gold, with any letter etching that will add to the piece's elegance. It's not only a beautiful accessory, but it also shows off the love for this amazing breed.
10. Golden Retriever Candle
The cute candle is a delightful addition to any home or office space with its delightful and calming scent of lavender, vanilla, and sandalwood. This beautifully crafted candle features the outline of a dog with its wagging tail, making it one of the perfect golden retriever gift ideas.
Plus, the glass jar version makes a great pencil cup for your desk when the wax is gone.
What we love:
Stunningly crafted candle
Made with high-quality soy wax, this candle is environmentally friendly and long-lasting.
Sleek design and an irresistible fragrance
11. Golden Retriever Themed Gifts With Plush Stuffed Animal
This plush toy is soft and cuddly, just like the real thing, and it will be the perfect addition to any dog lover's bed. This soft and cuddly toy is also suitable for kids over 24 months old.
Whether you're a fan of Golden Retrievers or just looking for a cute and lovable toy, this plush stuffed animal will surely be a hit.
What we love:
Made from high-quality materials, this stuffed animal is durable and can withstand plenty of snuggles and playtime.
Ideal size for hugging and carrying around.
12. "I Love You Forever" Golden Retriever Pendant
This beautiful golden retriever pendant is the perfect accessory that should be on your list of gifts for golden retriever lovers. This item is made of the best 925 sterling silver, making it elegant and long-lasting.
This stunning piece has a beautiful heart-shaped bead design and is adorned with sparkling stones that give it an extra touch of wealth. It is a true work of art for jewelry because the design is elegant and versatile enough to wear every day.
13. 3D Golden Retriever Finder Wrap Rings
Wrap the love of dog lovers around their fingers with the cutest rings for women of Golden Retrievers obsessed. These cute rings are a great way to add to your collection of birthday jewelry.
What we love:
Made of high-quality metal and can be resized: Durable and stunning
Come in three color options: antique silver, bronze, and black golden retriever.
Unique Golden Retriever Gift Ideas That Will Steal Your Heart
14. Golden Coffee Mug
Cuddling up with your dog in the cozy morning is always a cool idea, so giving them this coffee mug is a fun way to cherish their happiness. The mug features a cute and colorful design of a Golden Retriever that will brighten up your morning coffee routine.
This mug is a functional and lovely decor for your kitchen or office.
What we love:
Made of high-quality ceramic material that will keep the drink hot longer.
The large capacity
The sturdy handle makes it easy to hold.
Microwave and dishwasher-safe for convenient use and easy cleaning.
15. Golden Retriever "I Work Hard" Tote
This "I Work Hard" tote is a must-have for dog lovers. This durable tote features a cuteness and humorous design with a golden retriever working hard as a "professional ball chaser."
It is made on high-quality cotton canvas and has plenty of room for essentials. With its adorable design and practical features, this tote will surely be one of the charming gifts for golden retriever obsessed.
16. Golden Retriever Spinner
This spinner is a charming addition to any outdoor space's decor. Featuring a playful and happy Golden Retriever dog, this spinner will surely bring a smile to the receiver's face as it spins in the breeze.
What we love:
Made with durable materials, it can withstand various weather conditions, making it perfect for year-round use.
A unique design.
100% UV-resistant fabric
Easy to assemble
17. Golden Dog Lunch Bag
This neoprene lunch bag and silverware holder will make anyone swoon over their coolness. This lunch bag is perfect for taking to work, school, or a picnic with your furry friend. The cute Golden Retriever design on the front will make you smile whenever they use it.
What we love:
It is made of fine neoprene material that keeps your food cold or hot, depending on your needs. Waterproof and breathable.
An easy-to-use zip enclosure at the top ensures your items do not fall out.
Machine washable, easy to dry, never fades, and ready to go daily.
18. Anatomy of a Golden Retriever Pillowcase
This cute pillowcase is a must-have for those who love golden retrievers. This unique pillowcase showcases the different parts of a golden retriever's body, including its ears, paws, and tail.
This unique case is made of soft flannelette, has an invisible zipper, and has bright, long-lasting graphics. The high-quality material and detailed printing make a comfortable and eye-catching addition to any bed or couch.
19. Pressed Flower Keychain
If you have a friend who always seems to lose things, no matter how important they are, like the key to their house or the car keys. With this cute dog keychain, made from molded resin and filled with pressed flowers, dog lovers probably won't lose their keys.
These unique keychains feature a beautiful, delicate flower with a golden retriever silhouette in the center, making them the perfect way to show off your love for your furry friend. You can choose the colors of the flowers and glitter on these keychains and add a name to make them more unique.
20. Golden Retriever Hand Towels
These golden retriever themed gifts will make your friends laugh whenever they see them and walk by them in the kitchen. The front and back have a lot of detail, and the front paws have snaps that keep them tightly attached to the towel rack.
The towels are decorated with adorable images of Golden Retrievers, adding a touch of charm to your bathroom decor.
What we love:
They are made of soft and absorbent material, making them perfect for drying your hands after washing them.
Durable and long-lasting, ensuring they will be a staple in your home for years.
21. Golden Retriever Garden Stake
This charming garden decoration features a beautifully crafted golden retriever figure perched on a sturdy metal stake. It comes in several finishes, including rust, and can be personalized on the body.
This garden stake perfectly tributes this loyal and friendly canine companion. Hence, it is a great gift idea for any dog lover who loves spending time in their garden.
22. Playful Pup Wine Bottle Holder
Animals and booze don't usually go well together, but this super cute wine bottle holder is an adorable and practical way to display the bottle of wine.
This cleverly designed wine holder features a playful golden retriever puppy holding onto your wine bottle, adding a touch of whimsy to the bar or kitchen decor. Moreover, the hand-painted details bring this puppy to life, making it a fun piece for any dog lover.
23. Personalized Golden Retriever Gifts of Wall Clock
Time goes around a dog, so why not take advantage of that with this cute clock in the shape of a retrieve? This clock is beautiful artwork because it features a gorgeous golden retriever design that will bring warmth and joy to any space.
24. Golden Retriever Zip Wallet
This wallet will delight dog owners because it is made of beautiful vegan leather. Its practicality and adorable design make it one of the cutest golden retriever gift ideas.
What we love:
Made of high-quality material and has a secure zip closure to keep your valuables safe.
Compact and easy to carry, making it perfect for everyday use.
Multiple card slots and a spacious compartment for cash and coins.
25. Willow Tree Angels' Golden Statue
This hand-painted willow tree figure is one of the cutest gifts for golden retriever lovers to show how much they love their dogs sweetly and movingly. The statue depicts a girl embracing her golden retriever, and the craftsmanship of the sculpture is truly impressive.
Whether you are a dog lover or appreciate the beauty of art, this statue is a lovely and meaningful piece.
26. Stunning Golden Retriever Multicolor Resin Statues
These fantastic Golden Retriever figures will make any room look better, whether it's your living room, office, or study. These little ones are beautiful and bright and will last forever as a birthday gift.
What we love:
Made of high-quality plastic and comes in three different color combinations.
27. Sleeping Floor Rug
You can delight and turn their home into a golden haven with these cute gifts for golden retriever lovers. The rug features a realistic depiction of a golden retriever sleeping soundly, with a soft and fluffy texture perfect for snuggling up.
What we love:
Made of soft polyester, ensuring it will last for years to come.
No slip and rust; antibacterial and comfortable.
Personalized Golden Retriever Gifts For Owners To Enjoy Their Day
28. Golden Retriever Cookie Cutter
Made of durable stainless steel, this cookie cutter is easy to use and can always create perfectly shaped golden retriever cookies. Whether making treats for your furry friend or creating a fun snack, this cookie cutter will surely bring a smile to your face.
With its high-quality construction and adorable design, the cookie cutter is a sweet addition to your personalized golden retriever gift ideas.
29. Goldie Crocs
If you give these cute shoes to someone who has a passion for the breed, they will be a perfect addition to any dog lover's wardrobe. These Crocs feature a golden retriever graphic on the upper and are easy to clean, making them ideal for daily wear.
Whether they're walking with their pup or running errands, these unique Crocs are a stylish and comfortable choice.
What we love:
It is made of lightweight Croslite foam and has a relaxed fit, making them comfortable and durable.
Sleek and cute design
Easy to clean for daily use.
30. Golden Retriever Socks
A pair of golden retriever socks is a great addition to any dog lover's wardrobe. They are a fun and practical way to show love for these friendly and affectionate dogs.
What we love:
Made of comfortable materials, they are perfect for everyday wear or as a cozy addition to loungewear.
They come in various colors and designs, making finding a pair that matches your style easy.
Feature funny photos of Golden Retrievers.
31. "Don't Stop Retrieving" Mug
Mugs are often the go-to gift when you can't think of anything else for gifts for golden retriever owners. If they have a Golden Retriever mom, this unique mug is a great way to make the experience more memorable.
What we love:
Feature a cute cartoon-style golden dog with the punny phrase "Don't Stop Retrievin'" in bold letters.
It is made of high-quality white ceramic holding 11 ounces of liquid.
Microwave and dishwasher-safe, making it a practical addition to any kitchen.
32. Golden Retriever Coasters
Whether you choose traditional stone or crushed marble, four handmade coasters are great personalized golden retriever gift ideas to add personality to home decor. These coasters are perfect for use at home or as a gift for any occasion.
They come in various materials such as cork, ceramic, or stone and often come in a set of four or six. Not only do they protect your furniture from drink rings and spills, but they also add a touch of charm to any room.
33. Personalized Where Your Dog Book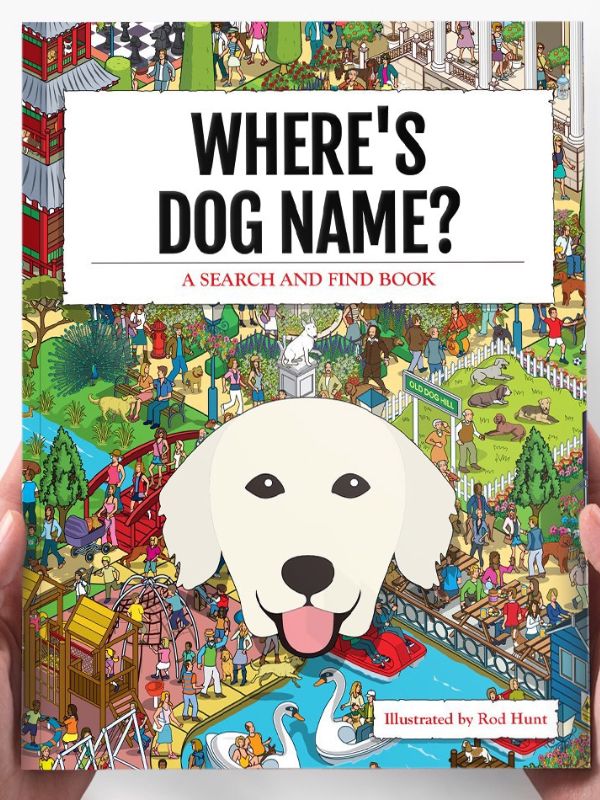 The old saying says a dog is a man's best friend, so this custom version of Where's Waldo will be perfect for kids who can't get enough of their beloved pets. You can customize the book by adding your dog's name, gender, and physical features, making it a unique and one-of-a-kind gift.
The book will take them on a journey of adventure with their Golden Retriever, making it a perfect keepsake for them and their beloved pet.
34. Golden Retriever Nail Decals
This set of 60 nail decals of cute and realistic golden retrievers is a fun and unique way to add canine charm to your manicure. One of the great things about nail decals is that they can be easily applied at home, allowing you to create custom nail art without going to a salon.
They are relatively affordable and can be reused multiple times, making them great gifts for golden retriever lovers.
35. Golden Retriever Goat Milk Soap Gift Set
This spa set is a must-have for Golden enthusiasts who love high-quality, all-natural products. It includes four goat milk soap bars and has a honey oat or lavender smell. The recipient can use the soap to nourish their skin while enjoying each bar's cuteness.
What we love:
It is made with all-natural ingredients, including nourishing goat milk, and is gentle on the skin.
The packaging is also beautifully designed.
36. Golden Retriever Blankets
Stay warm and cuddle up with Golden all winter with these cute and cuddly blankets! These blankets are perfect pieces of stuff if you're looking for perfect gifts for golden retriever lovers. These adorable throw blankets look great in any space, like your bed, living room, office, car, or even a child's room.
What we love:
Made of the softest and fluffiest Sherpa fleece fabric.
Come in medium and large sizes to use as a throw or full blanket.
37. Customized Canvas Print
These beautiful Golden Retriever wall art pictures are a great way to add a touch of warmth and cheer to home or office spaces. These wall art pieces will bring joy and happiness wherever you put them.
Printed on high-quality fabric with eco-friendly inks in bright colors, these canvases are a lovely addition to any decor collection.
Tips On Choosing A Perfect Golden Retrievers Themed Gifts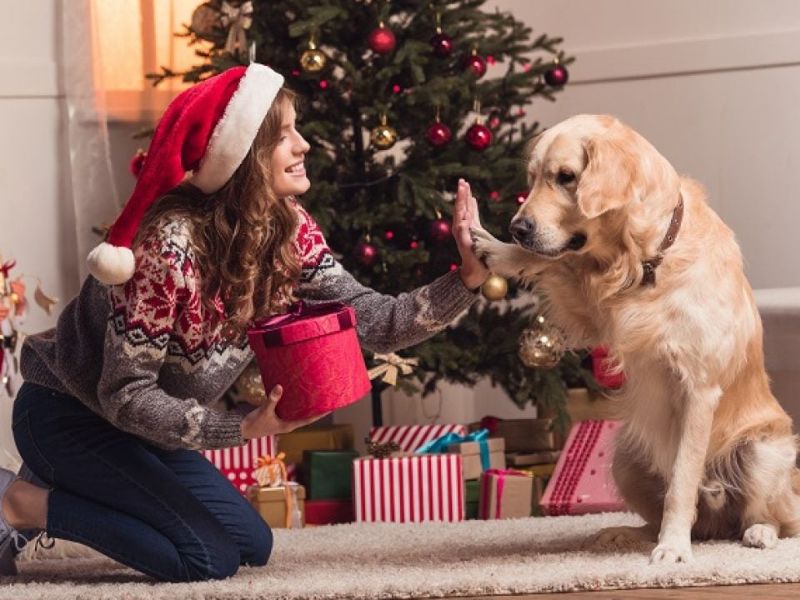 Giving someone one of the great golden retriever gift ideas can be hard since many choices exist. Here are some tips to help you find the right gift with a Golden Retriever theme:
Consider the recipient's personality and interests. Do they like golden retriever gift ideas that are useful or pretty? Do they enjoy cooking or working in the garden? Matching the gift to what they like will make sure they like it.
Think about the occasion. Is it a birthday gift, a Christmas gift, or just a nice thing to do? Personalize the gift by making sure it fits the event.
Determine your budget. Gifts for golden retriever lovers can be small and cheap or big and pricey. Having a budget will help you choose between fewer things.
Look for unique gifts. There are a lot of standard Golden Retriever gifts available, but finding something unique and personal will make the gift more memorable.
Read product reviews. Before buying something, take the time to read reviews written by other customers to ensure the item is good.
Considering these tips, you can find the perfect Golden Retriever-themed gift that will bring joy to the recipient.
>>> Read more:
Giving one of our unique gifts for golden retriever lovers is a great way to show how much you appreciate the love of their furry friend. The love and friendship that a Golden Retriever can give is like nothing else. We hope our gift list from Canvas Personalized will help you find the perfect gift for a dog owner who obsesses about Golden Retrievers.