Are you worried about your pet's hair loss? Seeing your dog lose hair can be upsetting, but you can try a few dog hair loss home remedies to help.
In this complete guide from Canvas Personalized, we'll look at easy-to-do treatments, information, and practical tools for stopping hair loss and helping it grow back healthily at home.
Understanding Dog Hair Loss
Dog hair loss, known as alopecia, can be a concerning condition for pet owners. The word "alopecia" comes from the Greek word "Alopex," which means "fox." Foxes with mange can lose their hair.
Alopecia occurs when patches or large hair areas fall outside the usual cycle of shedding in any type, age, or gender of dog or cat. Some dog types shed a lot more than others, and there are times of the year when your dog may shed a lot more than at other times:
Labrador Retrievers
Golden Retrievers
German Shepherds
Akitas
Alaskan Malamutes
Great Pyrenees
Chow Chows
Siberian Huskies…
No matter what age, gender, or type of dog they are, dogs will almost always leave their messes on the carpet, in the car, on your couch, or in your bed.
Since hair is important because it helps control body temperature and protects the body from UV rays, So that's why it's essential to understand the common causes and signs to address the issue effectively.
Common Causes of Hair Loss in Dogs
Allergies: Dogs can develop allergies to certain foods, environmental factors (such as pollen or dust mites), or contact with irritants, leading to hair loss. Pulling or scratching the hair out or an infection that causes the hair to become loose and fall out can contribute to this hair loss.
Parasites: Infestations of fleas, ticks, or mites can cause intense itching and scratching, resulting in hair loss. This hair loss is either from pulling or scratching the hair out or from a secondary infection loosening it until it falls out.
Infections: Fungal or bacterial infections, such as ringworm, can lead to hair loss in localized or widespread areas. Dogs can also lose their hair due to bacterial or fungal illnesses. For example, ringworm, an infection caused by fungi, can cause hair to fall out.
Hormonal imbalances: Hormonal changes aren't just something that can happen to people. Hormonal conditions like hypothyroidism or Cushing's disease can cause hair growth to slow down and hair loss with different signs, such as increased thirst, appetite, urination, and a pot-bellied look.
Nutritional deficiencies: Poor diet or inadequate nutrient intake can impact the health of a dog's coat, leading to hair loss. For example, your dog's food may contain things that stop it from absorbing zinc and lead to a copper deficiency. This can cause a dull and unhealthy coat, sores, and skin problems.
>>>You can read more with 31 vet-approved dog food for skin allergies you can afford easily!
Stress or anxiety: Dogs experiencing high stress or anxiety levels may exhibit excessive grooming or licking behaviors and release stress hormones, such as cortisol, which can disrupt the normal hair growth cycle and result in hair loss.
Autoimmune disorders: Certain autoimmune conditions, such as lupus or pemphigus, can trigger hair loss as the immune system attacks hair follicles. The immune system may target the hair follicles, causing them to become inflamed and damaged, a condition known as autoimmune alopecia.
Identifying the Signs of Hair Loss
Signs of hair loss in dogs can vary depending on the underlying cause and the severity of the condition. It's essential to be observant and look for the following signs:
Patchy hair loss: Dogs may develop bald patches or areas of thinning hair on their body, head, tail, or limbs. These patches may be smooth and devoid of hair or have broken hair.
Excessive shedding: Excessive or abnormal shedding can indicate a problem. If you see clumps of hair around the house or lose a lot of hair when you brush, this could be a sign of hair loss.
Redness, Itchiness, or Inflammation: There may be redness, itchiness, or inflammation in the places where hair is falling out. Dogs may itch, lick, or bite at these spots, which can worsen hair loss.
Skin Changes: The skin in the affected areas may appear dry, scaly, or have a different texture. It can also get thicker or cause blisters or sores.
Changes in Coat Quality: The overall look and feel of the dog's coat may change in conjunction with hair loss. The hair that's left may become dry, rough, or brittle.
Behavioral Changes: Dogs experiencing hair loss may exhibit discomfort or distress. They may scratch or clean themselves too much, get angry, or show signs of nervousness or restlessness.
It's important to remember that other skin diseases or health problems can also cause some signs of hair loss. You should talk to a doctor if you see any of these symptoms. They can complete an exam, run diagnostic tests if necessary, and give you the right dog hair loss home remedies.
Home Remedies for Dog Hair Loss
Diet and Nutrition
1. Essential Nutrients for Healthy Hair
The health of your dog's coat can depend a lot on what it eats. Ensure your dog's food contains the essential nutrients that help hair grow healthily. This includes proteins, omega-3 fatty acids, vitamins (like vitamins A, B, and E), and minerals (like copper and selenium). That is one of the most important dog hair loss home remedies you can do.
2. Homemade Diets for Promoting Hair Growth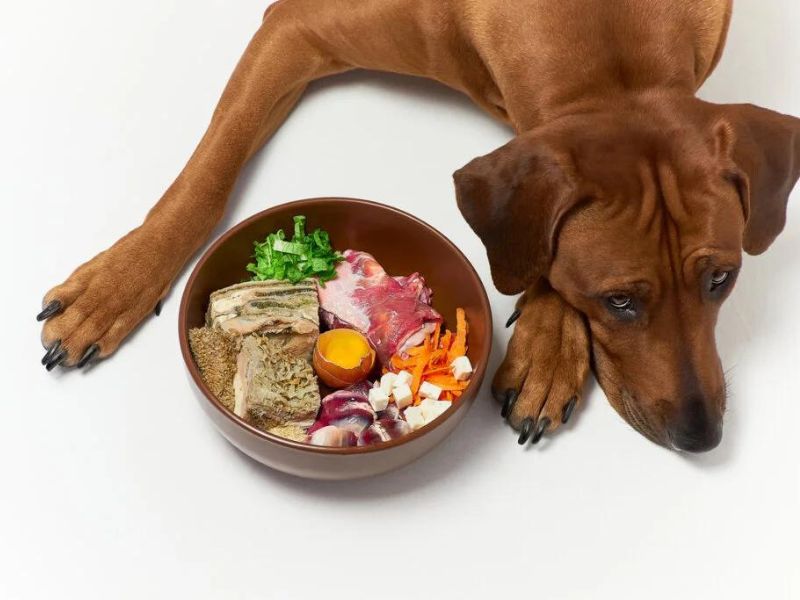 Consider homemade diets as home remedies for dog itching and losing hair if your dog's hair loss is due to dietary deficiencies. Talk to your vet about homemade meals for your pet to ensure they are well-balanced.
Grooming Practices
Proper grooming practices are the most effective dog hair loss remedies to maintain a healthy coat and promote hair growth.
3. Regular Brushing
Regular brushing helps remove loose hair, stimulates the skin, and improves blood circulation to the hair follicles. Use a brush or comb that is right for your dog's coat type and gently brush to help distribute natural oils and stop matting or tangling.
Brushing your dog helps spread the natural oils on its skin all over its fur, making it look healthy and shiny. So remember that grooming methods should be done gently.
>>> Discover more dog grooming tools to easily brush your dog's coat at home!
4. Gentle Shampooing and Conditioning
A mild and gentle shampoo is one of the perfect home remedies for dog itching and losing hair. Remember, don't use strong chemicals or scents that could worsen the skin. You can use a conditioner to nourish and moisturize the coat, leaving it soft and manageable.
Talk to your vet to find out how often you should bathe your dog and what shampoo for dogs with allergies is best for your dog's needs.
Note: Overbathing or using the wrong hair care products can make the skin even drier and worsen hair loss.
Natural Dog Hair Loss Remedies
When it comes to addressing dog hair loss naturally, several dog hair loss home remedies can be beneficial. Here are a few key options to consider:
5. Coconut Oil
Coconut oil, known for keeping skin soft and healthy, is one of the cheapest home remedies for dog hair loss and itching that you can easily afford. Applying coconut oil topically can help moisturize the skin, reduce inflammation, and support hair growth.
Also, coconut oil has lauric acid, which can kill germs and yeast that grow on damaged skin and cause illness. Since lauric acid has antimicrobial qualities that can help fight bacterial or fungal skin infections, massaging a small amount of coconut oil is fine.
6. Aloe Vera Gel
Aloe vera is one of the most affordable dog hair loss remedies at home. Aloe vera's clear, chunky insides contain vitamins A, B12, C, and E, folic acid, and other nutrients that help alleviate skin irritation and promote hair growth.
The enzymes inside also help keep a dog's skin and hair healthy by clearing dead skin cells and blocking the nutrient uptake nutritional hair needs.
Apply aloe vera to the areas of the scalp and hair on your dog that are affected the most. They remove dead skin cells and fill the area with strengthening nutrients that help it heal.
7. Apple Cider Vinegar
The traditional dog hair loss home remedies that have been in use for a very long time are apple cider vinegar mixtures. Since the blends have antimicrobial and anti-inflammatory properties, they can help address underlying reasons for hair loss. You can either dab it on your dog's skin or try adding some to their bath and using it to refresh their skin all over their body.
When mixed with water, it can be used as a rinse to help the skin's pH balance, calm itching, and keep infections at bay. Apple cider vinegar can also help remove buildup from the dog's coat, making it look healthier and shinier.
Note: Putting apple cider vinegar straight on your dog's skin, especially if it's already irritated, can burn. Instead, a spray bottle makes it easy to spray twice or thrice daily.
8. Olive Oil For Dog Hair Loss
Your dog will love olive oil as a soother for home remedies for dog hair loss and itching. Olive oil is another omega-3 and omega-6-rich natural treatment. It is also a great source of antioxidants, which help fight chronic diseases and inflammation.
Rub olive oil on your hand's back, then gently rub your pet. It will add shine and act like a salve on dry spots. The only problem is that giving olive oil directly to your dog is bad for their health.
Note: Ensure they don't sit on any good furniture while waiting.
You can use these natural hair loss remedies as part of your dog's grooming routine to help stop hair loss and encourage a healthy coat. But it's important to remember that every dog is different, so what works for one dog might not work for another. Asking your vet before trying new remedies is always advisable.
Herbal Supplements and Topical Remedies For Dog Itching And Hair Loss
Herbal products and topicals for dog hair loss home remedies can help itchy dogs naturally grow their hair. Here are a few important things to think about:
9. Omega-3 Fatty Acids
Omega-3 fatty acids, like those found in fish oil, can help relieve itching and promote healthy skin and hair by reducing inflammation. Essential fatty acids can be added to a dog's diet through supplements or by cooking with fish oil.
If your dog's food doesn't have enough vitamins, fatty acids, or other nutrients, it's important to give him or her pills.
10. Biotin Supplements
Biotin, vitamin B7, is important for keeping your dog's skin and hair healthy. Biotin supplements can help strengthen hair cells, make hair grow faster, and stop hair from falling out. It's important to get a high-quality biotin supplement made just for dogs and to follow the dose instructions.
These pills come in the form of chewy treats that taste great. The furry friend will be happy to get a treat for dogs, and you'll be glad that your dog's skin will be healthy.
11. Herbal Extracts for Skin Health
Herbal extracts like chamomile, calendula, and lavender have soothing and healing qualities suitable for home remedies for dog itching and losing hair. You can put these plant extracts on your skin as a homemade spray or mix them into a dog shampoo to help calm irritated skin, reduce inflammation, and support healthy skin.
Add these dog hair loss home remedies to a dog's daily routine that can help relieve itching and encourage the growth of a healthy, shiny coat. But talking to a vet before giving your dog any new supplements or topical treatments is important.
Stress and Environmental Factors
Stress and the environment can play a big role in finding the best home remedies for dog hair loss and itching. To deal with these problems and make the coat healthy, it's important to deal with these things head-on:
12. Reducing Stress and Anxiety
Like people, dogs can get stressed out and anxious, which can show up in different ways, like hair loss. Using techniques to reduce stress, such as making the surroundings calm and safe, getting regular exercise and mental stimulation, and using massage or aromatherapy to relax, can help reduce stress and lead to a healthier coat.
13. Addressing Environmental Allergens (Use A Humidifier)
Environmental allergens, such as pollen, dust mites, or mold, can trigger allergic reactions in dogs, leading to itching and hair loss. And what is one of the best ways to stop that? Get a humidifier for your home.
Using a humidifier in your home can help keep humidity levels at the right level, reducing allergens and stopping it from getting dry and itchy. Also, regular cleaning and vacuuming can help keep allergens from building up and make the surroundings cleaner for your furry friend.
Put it somewhere your dog spends time, like by their bed. This will be good for your dog's skin and your skin and plants if you also care for plants.
Note: Keep the humidifier in good shape and check the humidity levels regularly. If you don't, things could get dangerous.
Reducing stress and anxiety and getting rid of allergens in the surroundings can make your dog much more comfortable and less likely to itch and lose hair. Ask your vet can give you more advice on how to help your dog feel less stressed and suggest ways to protect it from allergens in the surroundings.
Pro Tips For Home Remedies For Dog Itching And Losing Hair
Prevention and extra tips are crucial for keeping your dog's health and well-being in check and lowering the risk of hair loss and itching. Here are some essential tips for dog hair loss remedies to think about:
Regular Veterinary Check-ups
Schedule regular trips with your vet to monitor your dog's health and address any problems immediately. Getting regular checkups can help find and fix issues before they get worse.
Avoiding Irritants and Harsh Chemicals
Be careful about cleaning, soaps, and grooming products around your dog. Choose safe and hypoallergenic choices to keep your dog from being exposed to irritants and harsh chemicals that can cause hair loss and skin problems.
Keeping Your Dog's Living Space Clean
Clean your dog's bedding, toys, and box regularly to reduce allergens and bacteria. A clean setting can help prevent skin irritations and make a dog's coat healthier.
Proper Exercise and Mental Stimulation
Your dog needs regular exercise and mental stimulation for general health. Do things with your dog that keep him physically busy and mentally stimulated. This can help your dog feel less stressed, improve circulation, and keep its coat healthy.
By taking these precautions and following these tips for dog hair loss home remedies, you can help your dog stay healthy and reduce the chances of hair loss and itching. Remember that every dog is different, so it's important to talk to your vet for advice and help tailored to your dog's wants and situation.
>>>Further reading:
By discovering these dog hair loss home remedies, you can help it get a healthy, shiny coat back. Remember that keeping an eye on your dog's growth is essential by being patient, consistent, and aware. With love, care, and effective treatments from Canvas Personalized, you can help your dog's hair grow back and ensure they are healthy overall.