Finding the perfect gifts for dog lovers may be a fun challenge because of dogs' particular positions in our lives. Our exhaustive guide from Canvas Personalized will inspire you, whether you're shopping for a friend, family member, or even yourself.
We have something for every dog owner on your list, from trendy accessories to functional products that improve the quality of life for their pet. So, let's get in and investigate the realm of canine-related presents!
Practical and Personalized Gifts For Dog Lovers For Any Occasion
1. Embark Dog DNA Test
There's nothing more exciting than giving the Embark Dog DNA as one of the practical gift ideas for dog lovers since they have a new puppy in their home. According to AffinityDNA, it is a DNA test that examines over 200,000 genetic markers. It covers over 350 breeds, types, and varieties, over 210 health conditions, and 20 traits, and even offers the world's only canine relative finder.
It will help you unravel your pet's specific breed background and provide you with exclusive tools to manage your pairings and litters.
2. Furbo Dog Camera
The Furbo Dog Camera is one of the best dog themed gifts because it is a pet camera with 1080p video, night vision, and barking alerts. It can dispense treats and let owners talk to their dogs remotely. The Furbo Dog Camera offers superior picture quality and reliability. Moreover, it has a sleek, durable design and a 160-degree field view.
Many dog owners said they have great peace of mind and satisfaction with the Furbo Dog Camera. It may be more expensive than other pet cameras, but it is as helpful as fun and gives you peace of mind that your dog and home are safe.
3. Wagwear Bone Toggle Collar
The Wagwear Bone Toggle Collar is a unique and stylish gift for dog lovers because it is hand-stitched and made in England from the finest rolled leather with a solid brass bone toggle closure.
This collar's high-quality construction will last through even the most active dog antics. Your pet will feel safe and secure in this collar that can be adjusted to its size. The collar comes in dark brown and offers a unique look that will make your pup stand out when out on the town.
4. Pet Odor Exterminator Candle, Orange Lemon Splash
Most pet parents highly recommend this gift to anyone with a dog who can't take the wet-dog scent. It works not by filling the air with a new scent to overpower the stink but by releasing a blend of natural enzymes.
The candle comes in a 13-ounce jar with an operating time of 70 hours. With Pet Odor, dog owners can say goodbye to unpleasant pet odors and hello to a fresh, inviting atmosphere.
5. The Premium Dog Lover's Gift Box
This lovely box has a carefully selected assortment of canine toys and treats, such as a Yunomi Cup, a dog-themed tote bag, and accessories tailored to your dog's size and preferences. This gift box is designed to provide a unique and personalized experience for your furry friend.
The box comes in different sizes and can be customized to fit your budget. The Premium Dog Lover's Gift Box is an excellent option for any occasion you wish to express your enthusiasm for dog friends.
6. American Pet Supplies Dog First Aid Kit
The perfect gift ideas for dog lovers, as most people don't have one of them. This kit provides first aid supplies to treat your dogs and cats in an emergency, including sterile gauze pads, scissors, adhesive bandages, one roll of medical tape, disposable gloves, hand cleansing wipes, saline solution, sting relief pads, and a saline solution.
The kit is compact and easy to carry around. This kit will give you peace of mind and allow you to take better care of your dog in an emergency.
7. Rechargeable Hand Warmer
Dog owners find taking their dogs for a walk on a cold day challenging. This device is designed to radiate heat to warm your hands. You can tuck them in your pockets or hold them in your hands to get relief from cold hands. It is small, battery-powered, and can be slipped into gloves and pockets to hold for warmth.
The rechargeable hand warmer is one of the thoughtful wintertime gifts for dog lovers that can keep hands warm in various settings, from outdoor winter excursions and sporting events to more sedate inside pursuits.
8. Travel Airline-Approved Dog Carrier
This pet carrier has three uses: it is a comfy bed for your pet and can also be used as a pet carrier for an automobile or airplane, making it ideal for people who travel with their pets. It has a large storage compartment, a shoulder strap that turns into a leash and complies with aircraft cabin regulations.
Moreover, it is made of high-quality materials and is airline-approved. Thanks to the mesh windows, your dogs will get plenty of fresh air and see what's happening around them.
9. Pet Wand Pro Shower Sprayer
This modern sprayer simplifies pet wash time while providing extensive and friendly cleaning. It has a long hose and an ergonomic wand to clean your pet from head to tail in seconds. The sprayer is designed with the user's comfort in mind, with an anatomical handle and an on/off switch. The Pet Wand Pro Shower Sprayer will allow dog owners to give their pets a luxurious bath in the comfort of their own homes.
10. Dog Mom Sweatshirt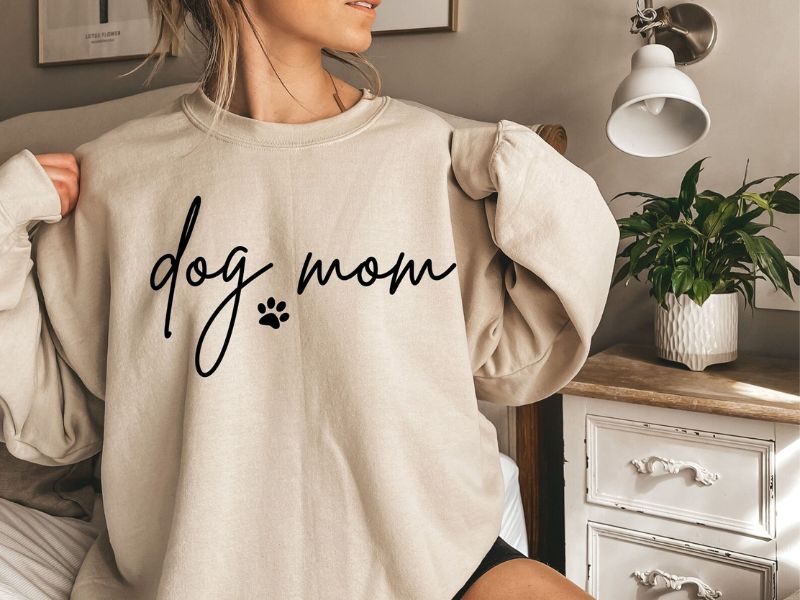 This soft and stylish sweatshirt comes in eight different colors and a range of sizes, making it one of the best dog themed gifts for the woman in your life who calls herself a dog mom and loves to wear it on morning walks.
It's made of a plush fabric that keeps you warm and cozy on chilly days. It has a casual style, and simple design that makes it easy to outfit with anything from jeans to leggings to pajamas.
11. Andy's Dandy Celebration Bone
These treats aim to create human-grade dog treats in an accepting environment, making them the ideal gifts for dog owners. It is a 5 1/2″ jumbo bone fully frosted with dog-friendly yogurt icing and decorated with house-made yogurt sprinkles since yogurt safe for canines is the cherry on top of this tasty delight.
Its crunchy texture aids oral hygiene by discouraging the buildup of bacteria and tartar on teeth. In addition to being delicious, the Celebration Bone is healthy for your pet because it contains vitamins and minerals.
12. Puraclenz Surface and Air Purifier
Many dog owners said they need air purifiers around their furry friends because these items can effectively filter indoor air pollution without re-releasing any toxins they remove. They are scientifically proven to be 99% effective at reducing airborne viruses and bacteria and cleaning exposed surfaces.
These thoughtful gift ideas for dog lovers help keep the home smelling fresh and clean while keeping dogs and their owners at ease with simple controls and little maintenance.
13. Illumiseen LED Dog Leash
This reflective, light-up leash will ensure you and your dog are safe on the road. It is durable, sturdy, and lightweight and features a USB-rechargeable battery that provides five hours of illumination per one-hour charge. The light-up leash works marvelously with the LED dog collar, making it one of the best and funniest dog themed gifts for any dog lover.
14. Whistle Go Explore Pet Tracker
The value of tranquility is incalculable with this lightweight and easily attached smart device that keeps tabs on a dog's vitals and helps owners motivate it to get in shape. The functions work like a GPS tracker, so they'll know when the dog wanders too far from home. They can set up safe zones and get alerts when your dog leaves the zone. It also has a battery life of up to 20 days and is waterproof.
With long battery life and a simple-to-use mobile app, this tracker is an essential tool to ensure the health and safety of their furry friend.
15. Couple Dog Scrunchie and Bandana Set
These bandanas, leashes, and collars have gained a devoted fan base among gifts for dog lovers. If they want to match their best furry buddy quietly, give them this brand's scrunchie and bandana combo. They are available in different colors and patterns, making them perfect for taking pictures with your dog and posting them on social media.
16. Custom Pet Portrait
These modern, minimalist pet wall arts look great in any home and will be treasured as dog themed gifts for years. Hand-drawn by skilled artists, each portrait is unique and created specifically for home decoration. The West and Willow Custom Pet Portrait is a touching and unique way to honor the special relationship between pet and owner, making a wonderful present for animal lovers of all ages.
Shop Now
17. Custom Pet Phone Case
This item is even more fantastic, just like a pet photo mug. The case is a replica and custom-crafted with a high-resolution photo of your pet. It snugly covers the phone, protecting it from bumps and scrapes. The tough materials in the case guarantee years of service, and the carefully crafted openings facilitate quick and effortless access to all controls.
18. Dog Mom Photo Holder Block
This is for the person who can't imagine life without their dog. The engraved message on the wooden photo block is perfect for people who love their pets and want a unique way to display their photos. In addition, the spiral wire can showcase a photo of the receiver and their pet.
The block's careful design and craftsmanship make it an attractive addition to any decor. It's a beautiful piece to display on a table, shelf, or nightstand to remind you of the happiness and love that dogs bring into your life.
19. French Bulldog Glass Tree Ornament
Any dog owner would be thrilled to get a Christmas ornament depicting their breed of choice. This ornament is a work of art thanks to its high-quality glass, brilliant colors, and detailed engravings, making it perfect for people who love their pets and want a unique ornament on their Christmas tree.
This French Bulldog ornament is perfect for the holiday season, and it would make one of the best gifts for dog owners who appreciate the breed. Your presentee will undoubtedly remember you every time they use it to decorate their tree.
20. Dog Print Coir Doormat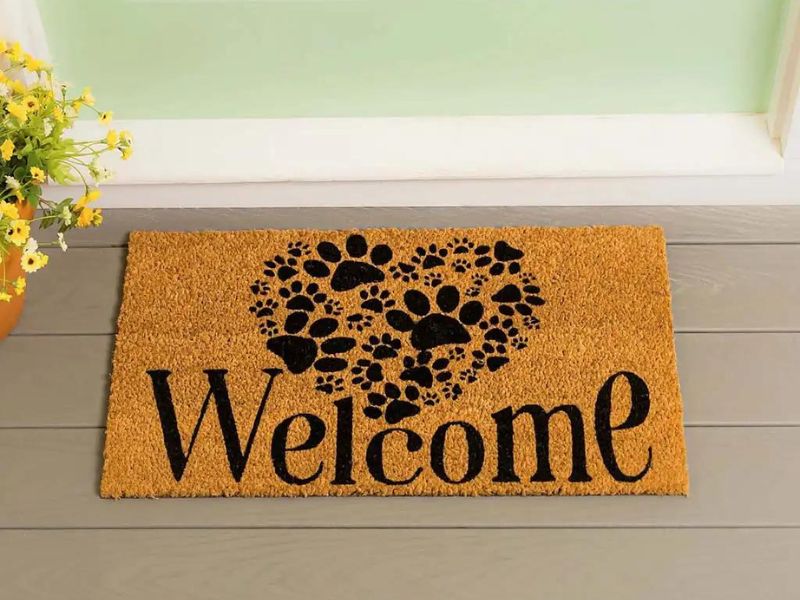 Any pet owner would appreciate the dog themed gifts of clean floors since it will help them feel more at home in your home. The durable mat is equipped with stiff bristles made from hard natural coir and a nonslip PVC backing to ensure that mud and filth are scraped off shoes before they enter the house. Guests who share your affection for canine companions will appreciate the whimsical and welcome touch the dog print brings to any entrance.
21. Friendship Collar Dog Collar and Matching Bracelet Set
You're wonderful, but everyone knows that a dog is the finest buddy someone can have. A devoted dog owner would also enjoy wearing a bracelet with the same design as their collar.
The uniqueness of these items comes from the fact that they allow the dog and its owner to wear matching accessories as a public display of their everlasting friendship. It's one of the loveliest gifts for dog lovers you care about.
22. Outward Hound Brick Puzzle Game
Outward Hound Brick Puzzle Game is one of the greatest gift ideas for dog lovers because it is a puzzle game for dogs designed to stimulate their minds. While their owner is busy making the holiday meal or reading a good book, dogs can play with this toy and enjoy searching for rewards. It'll take them some time, but they should eventually figure out how to get them out. This puzzle game is not only fun but also has educational benefits and may be used as a training and bonding tool with your dog.
23. Personalized Dog Initials Ring
Consider the customized dog initials ring for the dog enthusiast since you can add up to eight dog or cat charms, each bearing the initials of the beloved pets. The ring is made from high-quality materials, so it will last a long time and look great. It may be worn to casual and formal events because of its sophisticated style.
Gifts for dog lovers and owners can't get much more heartfelt than this.
24. Custom Dog Necklace
This custom dog necklace is a lovely token of affection for the dog's owner or canine companion. You can personalize a gold, rose gold, or silver necklace with a photo of your pet and its name or nickname.
The pendant is handmade with careful attention and premium materials to ensure its lifespan and beauty. It's available in several designs and finishes, so you can pick the one that best suits a dog lover's style.
25. Custom Engraved "Best Friend" Dog Tag
A custom-engraved "Best Friend" dog tag would benefit any dog owner as one of the practical dog themed gifts. If your dog ever goes missing, the tag is a fashionable and helpful identity tool. It has the words "Best Friend" engraved on it, is made of high-quality materials, and has a unique design, allowing you always to know where they are.
It's a heartwarming gift special bond between man's best friend and four-legged companion.
List Practical Gifts For Dog Owners To Take Care Of Them
26. Pet Zone IQ Treat Dispensing Ball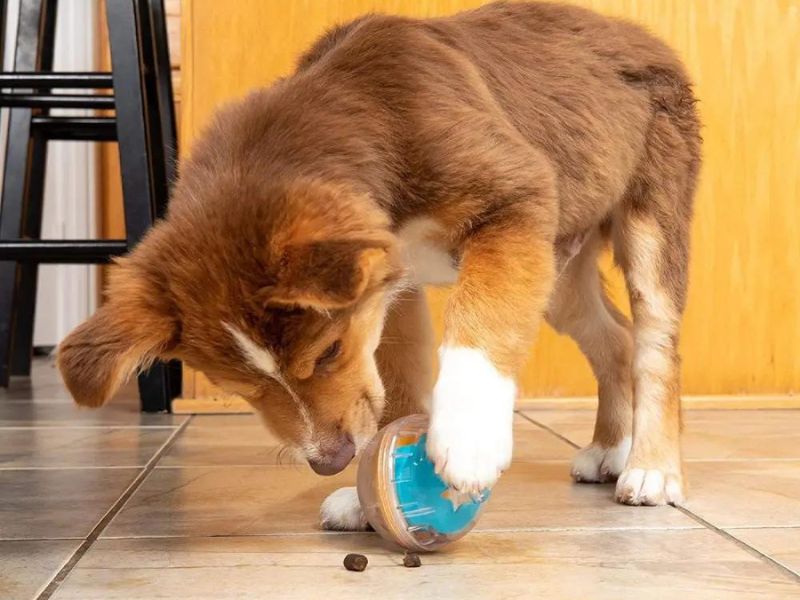 This food-dispensing toy is great for high-energy dogs or dogs that quickly become bored since it keeps them active and stimulated both cognitively and physically. It is a ball that dispenses treats when your dog plays with it, and it will learn to roll the ball to get rewards.
The ball can take a beating from exacting play and chewing because of its non-toxic design, so it is perfect for people who want to challenge their dogs and keep them entertained.
27. Dr. Catch Dog Puzzle Toy
Dr. Catch Dog Puzzle Toy is a puzzle toy for dogs designed to stimulate their minds. It prevents dogs from gulping down their food in one sitting, helps keep their minds active, and staves off boredom.
It has different compartments where you can hide treats, and your dog has to figure out how to get them out. You can rest assured that your pet is safe when playing with it because of its sturdy build and non-toxic materials. The Dr. Catch Dog Puzzle Toy is a fantastic option to add to the list of gifts for dog lovers if your dog likes puzzles.
28. Cute Seas Octopus Dog Toy
This toy checks off all dog boxes: it is made of soft corduroy, is ideal for cuddling, and has an interior squeaker and crinkle sound that encourages play. In addition to being cuter than the traditional dog toy, it adds mentally-stimulating variety to the toy box and is available in three sizes: S, M, and L. The octopus dog toy will keep your canine buddy entertained long.
29. Outward Hound Hide a Squirrel
This toy will entertain man's best friend for hours, and you cannot put a price on that. This toy eliminates boredom, encourages positive play, and feeds your dog's natural hunting instincts. Moreover, it is a 2-in-1 interactive play that means double the fun with options to play fetch or hide and seek to keep your dog mentally stimulated. The Outward Hound Hide a Squirrel is one of the best gifts for dog lovers with an active and exciting personality since it satisfies their drive to hunt, pursue, and play.
30. Fable Dog Bed
The Fable Dog Bed is an elegant and cozy place for your beloved dog to sleep. Our luxurious dog bed features minimalist lines and looks great with any decor. It is made of crushed memory foam, is water-resistant, durable, stain-resistant, easy to clean, and can be used outdoors.
Fable's water-resistant dog bed has a removable cover that you can throw in the washing machine to clean, so it's convenient for you and your pet. Bringing a touch of luxury to your home while providing your dog with a comfortable place to rest.
31. Luxury Shag Faux-Fur Doughnut Cuddler
This shag rug is an excellent option for a less-priced dog bed. It has over a thousand five-star reviews on Amazon, is a favorite of many dog owners, and is perfect for small dogs that hug and burrow. It is made of high-quality faux fur that is soft and comfortable. The bed is designed to provide maximum comfort and support for your pet's head and neck.
32. Dog Rubber Rain and Winter Booties
These all-rubber slip-on boots will keep the dog's paws dry and warm in any weather since they are made of high-quality rubber that is durable and waterproof. They are also great for protecting your pet's paws from the hot pavement during the summer months. Dog rubber rain boots are practical gifts for dog owners to care for their dogs well on winter days.
33. Yeti Boomer Dog Bowl
If you're looking for a high-quality and durable dish for your dog, look no further than the Yeti Boomer Dog dish since it can store eight cups of kibble, water, or food. It is made of high-quality stainless steel that is durable and easy to clean. The bowl is designed to be indestructible and can withstand even the most aggressive eaters.
The double-wall insulation works well to keep the right degree of liquids or foods longer, making it suitable for indoor and outdoor use.
34. Treat Dispensing Dog Toy
The treat-dispensing dog toy is a fun and challenging way to keep your dog's mind and body active and engaged. The dog will have to use his nose and his sliding skills to retrieve the treats hidden inside the compartments of this toy. Many dogs agreed that "food puzzles are great for city dogs because they provide mental enrichment, curb boredom, and are just plain fun."
The challenge can be tailored to the dog's level of expertise thanks to the game's multiple settings. Any dog owner who wants to engage their pet in rewarding play for extended periods should get a treat-dispensing dog toy as one of the best gift ideas for dog lovers.
35. Fun Feeder Slow Feed Interactive Bloat Stop Dog Bowl
Dogs that devour their food too quickly can use a slow-feed dog bowl. So if the dog has a habit of gobbling down his food too rapidly, this slow-feed interactive bloat-stop dog bowl would make a perfect dog-themed gift. It is designed to slow your pet's eating and prevent them from choking or bloating. The bowl has a unique maze-like design that forces your pet to eat slowly and work for their food.
It is also made of high-quality materials that are durable and easy to clean. Moreover, the pet can safely drink from it because it is manufactured from BPA-free, food-grade plastic.
36. Personalized Cable Knit Pet Sweater
This winter, give your dog owner the dog themed gifts of comfort and style with these personalized cable-knit pet sweaters. It is made of high-quality materials that are soft and comfortable. The sweater is designed to keep your pet warm during the winter and has a unique cable knit design that looks great on any pet. The pullover style makes it easy to put on your pet and keeps them toasty throughout the cold season.
This comfortable cable knit sweater can be personalized with the pet's name and comes in your choice of 15 embroidery thread collars and six sizes, making it ideal for colder seasons and family photo sessions.
37. Custom Food Storage Container
It would be best to have a custom food storage container to keep your pet's food clean and fresh. It is designed to keep your pet's food fresh and organized. The container is made of high-quality materials that are durable and easy to clean.
If you're feeling artistic, paint it like a fire hydrant or customize it with your pet's name or picture, which makes it one of the greatest gifts for dog lovers for any occasion.
38. JW Pet Hol-ee Roller Dog Toy
Many dog owners said that they love this small JW Pet Hol-ee Roller Dog Toy since it is called a bouncy ball and chew toy with big holes that make it easy to catch, grip, and fling about. The ball's squishiness absorbs noise and stress, which is great news for your downstairs neighbor. The rubber is tough without being inflexibly hard so that wayward tosses won't break it. The unique design makes the toy perfect for playing fetch or tug-of-war.
39. Pet Snuffle Mat for Dogs
Pets who enjoy using their noses and playing with their owners will have a blast with the Pet Snuffle Mat for Dogs. To train your dog's sense of smell and hunting abilities, this mat features several fabric strips or pockets where you can conceal treats or kibble.
It is designed to keep your pet entertained and mentally stimulated. It is also made of high-quality materials that are durable and easy to clean. The Pet Snuffle Mat is a great way to give your dog a positive experience while promoting slower feeding and decreasing anxiety.
40. Portable Dog Splash Pool
Gifting your dog owners a portable dog splash pool is a great way to keep them cool and active on sweltering summer days that you should add to your list of dog themed gifts. This portable pool is perfect for dogs of all sizes to splash, play, and cool down safely. The pool is made of high-quality materials that are durable and easy to clean. It is also portable and easy to set up, making it perfect for beach or park trips.
41. Puppy Kong Toy
The Kong Toy is essential for any family with a new dog. The toy has a unique design that allows you to fill it with treats or peanut butter, making it perfect for keeping your pet occupied for hours. It also keeps them from gnawing on your goods and furnishings. The Puppy Kong Toy is great for teething and training, so get one as the best gifts for dog lovers for their new puppy today!
42. Hyper Pet IQ Treat Mat
Like a snuffle mat, this set of licking mats is a perfect present for energetic dogs. This mat is ideal for dogs anxious around strangers or when left alone, as it spreads soft food like peanut butter to create a fun game where the dog is kept busy licking at the mat. It is also made of high-quality materials that are durable and easy to clean. The Hyper Pet IQ Treat Mat will provide your pet with hours of entertainment and mental stimulation. For these reasons, you should add this item to your list of gift ideas for dog lovers and shop now!
43. KONG Dog ZoomGroom Multi-Use Brush
This multipurpose brush lets you gently and comfortably remove dead hair, grime, and dander from your dog's coat. Many dog owners said that ZoomGroom's flexible rubber brushes make short work of knots and dander, and the grooming experience is "basically like giving your dog a mini-massage. It is also made of high-quality materials that are durable and easy to clean.
>>>Maybe you will it interested to discover more dog grooming tools!
44. Hurtta Expedition Insulated Dog Parka
If your dog enjoys going on walks and hikes in the winter but gets chilly quickly, then you should get them the Hurtta Expedition Insulated Dog Parka. Most dog owners agreed that this Parka has the most inclusive sizing, everything is adjustable on their coats, and the highest insulation of any dog coat they have ever seen.
The Parka has a unique design that allows you to adjust the fit to your pet's body, which makes it perfect for keeping your pet snug and cozy. This practical and fashionable dog parka provides warmth and protection for the pet, which you need to put on your list of gifts for dog lovers.
45. Wild One Poop-Bag Carrier and Roll
The Wild One Poop-Bag Carrier and Roll are indispensable when traveling with your dog. It is designed to keep your pet's waste bags organized and easily accessible. The carrier has a unique design that allows you to attach it to your pet's leash or collar, making it perfect for keeping your pet's waste bags within reach.
Moreover, they are "biodegradable, extra thick, and have a refillable dispenser that fastens to your leash or key chain for easy access. This carrier and roll bag is an accessory that every dog owner will adore because they are practical and stylish.
46. Paw Protection Natural Dog Wax
If you know a dog owner who is concerned about the health and safety of their pet's paws, Paw Protection Natural Dog Wax would make one of the most excellent dog themed gifts. It is designed to protect your pet's paws from harsh weather conditions such as snow, ice, and salt. The wax has a unique formula made with natural ingredients such as beeswax and coconut oil, making it perfect for keeping your pet's paws moisturized and healthy. It is also easy to apply and does not leave any residue.
47. Earthbath Oatmeal and Aloe Dog Shampoo
To help keep their pet's coat clean, healthy, and shiny, the Earthbath oatmeal & aloe dog shampoo would be one of the most helpful gifts for dog lovers. The shampoo has a unique formula made with natural ingredients such as oatmeal and aloe vera, making it perfect for keeping your pet's skin moisturized and itch-free. This shampoo is suitable for daily use because it contains no harmful ingredients or synthetic fragrances. This shampoo will also leave your dog smelling fresh and feeling healthy.
>>>Further reading:
It's not hard to find the perfect gifts for dog lovers with our ultimate list from Canvas Personalized. You'll be able to locate the ideal present that expresses your appreciation for their canine companion among our hand-picked offerings above. Choose a gift that will be treasured for years to honor the unwavering love and devotion that dogs bring into our lives. Get ready to win over the hearts of dog owners with these thoughtful presents.