Although it may be difficult, it is possible to potty train an older dog. Whether your current adult dog from a shelter has developed poor habits, you can still potty train it successfully in 6 steps by following Canvas Personalized.
Importance of How To House Train An Older Dog
It is the pet owner's responsibility to housebreak an older dog properly. Dogs of a certain age may have learned certain behaviors or acquired bad habits that must be rectified. The dog's behavior will improve, and the owner's life will be simplified with successful house training.
The importance of potty training adult dog cannot be underrated, especially when teaching an older dog. Although it may be more difficult, potty training an older dog is still feasible. When properly potty trained, a dog and its owner benefit from a clean and safe home.
The importance of potty training for older dogs:
Health problems: Potty training is essential for older dogs since they are more likely to develop health problems as they age, such as incontinence, bladder stones, and urinary tract infections.
Hygiene: An untrained older dog might urinate and defecate anywhere in the house, which can be unpleasant to smell and can spread germs. During potty training, you can teach your dog to use a specific area as its bathroom and stick to a regular schedule.
Bonding: Strengthening the link between you and your dog is another benefit of learning how to house train an older dog.
It's essential to potty train an older dog so that everyone in the household is healthy, clean, and happy. Successfully potty training requires patience, persistence, and positive reward.
Can An Older Dog Still Be Potty Trained?
It's never too late to potty train an older dog. However, due to their established bad behaviors, older dogs may take longer to acquire proper hygiene than pups, but they can still do so. In some ways, older dogs have greater experience with bladder control, so they may find it simpler to adhere to a regular potty routine.
Remember that working with an adult dog that has learned particular behaviors requires patience and persistence, but you'll get there in the end.
>>>If you've adopted a new pup to your home, learn how to potty train a puppy with easy steps and tips!
How To Potty Train An Older Dog In 5 Steps
The good news is that potty training an adult dog is very similar to training a puppy. Since an older dog may give fewer signs that it needs to use the restroom than a younger one, there are a few things you need to know before potty training an adult dog.
Prepare a crate or a confinement area: This will be your dog's temporary home while you're away. Once your dog has mastered crate training, you can teach him to go potty inside.
Clean up and remove the previous accidents: Properly removing odors from previous accidents is like putting a "restroom" sign for your dog.
Prepare the dog pad even if it is older: If your dog needs to be left alone for longer than it can contain its bladder, you should prepare some pads to make it comfortable. This will provide a more hygienic alternative to the floor.
Once you've got everything ready, here's how to potty train an older dog:
1. Take your dog outside at the same place and time daily
Taking your dog outside simultaneously daily is the first step in potty training an adult dog. Bring your dog outside regardless of whether or not they need to use the restroom. This can be arranged to fit into your dog's routine.
For example, when you get up in the morning, get home from work, and before bedtime are good times to take your dog outside.
Note: If the dog hasn't gone potty in the first five minutes, put it back in the crate for 10 to 15 minutes. Continue until the dog has been eliminated outside.
2. Use a verbal cue to potty train an older dog
Use phrases or words such as "go potty" or "potty" when your dog uses the restroom. You can use whatever term most conveniently fits the situation.
3. Give your dog a potty break after they go to the potty
Playing with your dog and praising and rewarding them with a treat is essential after they've successfully relieved themselves outside. This will reward their behavior and establish a positive association with using the restroom.
Your older dog will associate going to the bathroom with getting to play, and eventually, they'll only use the restroom when they're outside.
4. Establish a consistent routine for potty training for older dogs
If you feed your dog at the same time every day, he will develop a routine for going to the bathroom around that time. Do not feed your dog before or after the scheduled meals.
5. Repeat these steps throughout the day
When you're home, you should take your dog outside every hour, rewarding them with attention, goodies, and extra time outside to go potty.
Your dog will learn this pattern quickly if you consistently take it for frequent walks. Some dogs may take a weekend to learn, while others may need weeks or months. Have patience.
6. Track their potty time daily
Make a spreadsheet or keep notes on where and when your dog goes potty so you can learn their routine. Use the sheet to predict when your dog will need to go outside and when it won't.
How Long Does It Take To Potty Training Adult Dog?
The time it takes to potty train an older dog depends on many factors, including the dog's age, experience with housebreaking, and disposition. It takes a dog between three and six months to become correctly housebroken.
Consistent, patient, and determined is essential when housebreaking an older dog. Moreover, positive rewards, ongoing training, and a steady eating, walking, and potty break schedule are crucial.
It's also important to remember that an older dog's health may be compromised in ways that make it difficult for them to maintain control of their bladder or bowels, so it's wise to check in with a vet to be sure nothing serious is going on before potty training adult dog.
Common Challenges With Potty Training Older Dogs
It doesn't matter how old your dog is; potty training is always a challenge. Although most older dogs are likely to have better bladder control, they may also have a greater propensity to urinate at will. So acclimating to a potty schedule can be challenging for some older dogs.
Lear how to potty train an older dog might have obstacles compared to training a puppy. Some such difficulties include:
Health issues: Older dogs may have health issues that make it difficult to control their bladder or bowel movements. Conditions including UTIs, kidney difficulties, and stomach upsets can fall into this category.
If you find learning how to house train an older dog challenging, you should take your dog to the doctor to rule out any underlying health issues.
Behavioral issues: Older dogs may have developed bad habits, such as going to the bathroom inside the house. It may take more time and perseverance to tackle these kinds of habits.
Fear and anxiety: Some older dogs may be fearful or anxious about going outside, especially if they have not been exposed to the outdoors for a long time. They may resist going outside to use the restroom because of this.
Learning how to potty train an older dog can be harder for anxious dogs. If you know the signs of canine anxiety, you can pay more attention to your pet.
Lack of exercise: Older dogs may have reduced mobility or be less active, which can lead to constipation and other bowel issues. This can make getting on a consistent potty schedule for adult dogs harder.
Inconsistency: If the pet parents are inconsistent with their potty training routine, the dog may become confused and not know where to go potty.
To housebreak an older dog, you need to be patient and consistent and deal with any health or behavior problems that may be causing the pain. With some time and effort, most older dogs may be potty trained in a designated area.
How To Potty Train An Older Dog Without A Crate
It can be challenging to housebreak an older dog without using a crate, but it is possible. Several alternatives to using a crate when housebreaking an older dog are provided below.
Establish a routine: Establish a consistent routine for taking your dog outside to go potty. So be sure to take your dog out when you get up in the morning after he eats and before bed.
Use positive reinforcement: Reward your dog every time they go potty outside. Use rewards, verbal praise, and physical affection to encourage positive behavior.
Watch for cues: Observe your dog's behavior for signs that they must go potty. Some examples of these behaviors are sniffing, circling, and whimpering.
Supervise your dog: Keep a close eye on them when they're inside and take them outside immediately if you notice any signs that they need to go potty.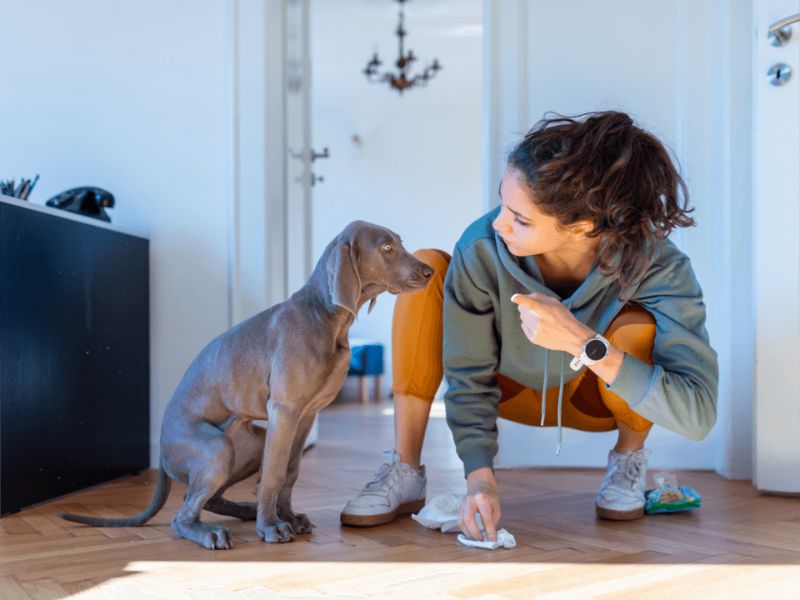 Clean up accidents properly: If your dog has an accident inside, clean it up thoroughly to remove any odor. If you do this, your dog will be less likely to return to that area.
Be patient and consistent: Learning how to house-train an older dog can take time, so be patient and consistent. If you maintain a consistent schedule and praise your dog when it goes potty in the right spot, it won't be long until it catches on.
It's important to remember that learning to potty train an older dog without a crate requires time and work but is possible with patience and perseverance.
Tips For Potty Training A Stubborn Older Dog
Potty training might be more difficult with a stubborn older dog, but there are several tips you can use:
Use a long leash: Keep your dog on a leash when you take it outside for bathroom breaks. This will prevent your dog from going potty anywhere but in plain sight. Your dog also won't be able to become sidetracked and stray off.
Teach your dog to use a bell or chime: Most pet parents understand the meaning of a bell or chime hung on the door to signal that it's time to go outside. If your dog needs to use the restroom, teach it to ring a bell.
>>> You may need dog bell training tips if your pup wants to go potty outside!
Use the dog's ability for scent marking: If you want your dog to use a specific spot as a bathroom, collect its urine and sprinkle it there. Your dog will sniff around, and it will probably go potty there.
Seeking professional help: If you've tried everything and your dog still goes potty inside, it may be time to consult a professional dog trainer or behaviorist.
>> Further reading:
You can potty train an older dog, but it will take time, effort, and consistency to eradicate bad behaviors that have developed over time. But with the right training methods from Canvas Personalized, you can teach an older dog to go to the bathroom. Reinforce good behavior often and stick to a regular training plan to help your dog live a happier, healthier life with you.